|
Smoking system will complement the alco product range in the future
With the FastSmoke add-on, alco will present a system for the first time in its over 40-years company history that reduces smoking time from several hours to just a few minutes. Integrated in spiral ovens, it allows for simultaneous cooking, baking, and smoking of various meats and vegetarian and vegan products on an industrial scale, without any harmful substances whatsoever. 
While traditional smoking methods, familiar barbecues, and large-scale industry require long smoking times by means of different smouldering smoke generators at temperatures of up to 100 °C in order to get the typical smoky flavor, alco offers an efficient alternative for the first time that implements optimal quality without any residue or harmful substances.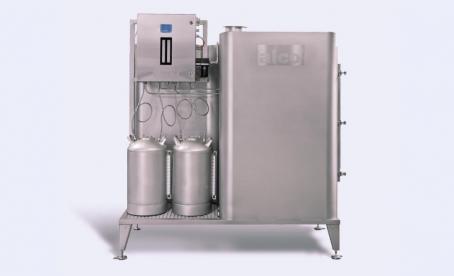 Thomas Kleine-Ausberg, Manager of Alco-food-machines GmbH [Ltd], explains: "Typical difficulties that arise when smoking various meats, such as dried-out or tough meat, are eliminated through this process. Smoked products are also free of harmful residue like ash, tar, or polycyclic aromatic hydrocarbons (PAH) and thus healthier than conventionally smoked products."
alco's FastSmoke smoking system uses various purified condensed smoke to produce an ideal smoke-air mix in the smoke generation part of the system. This mix is fed right into the spiral oven through negative pressure during the cooking process, while the finest atomization of the condensed smoke ensures even distribution and thus the best smoking results.
As an add-on to the smart multi-area spiral oven, the FastSmoke can be implemented in alco's single-tower and twin-tower system. The smoking system can be controlled through the convenient PLC control of the spiral oven with all the available extras like recipe management and other functions.
Visit us at our registered company office in Bad Iburg and see the FastSmoke system live for yourself! Test all the functions in the company of experienced application technicians and product advisors under realistic production conditions.