Our company delivers

 

quality from conviction
We aspire to go beyond expectations, advise every client individually, and develop the best solutions together. Count on a partner you can trust, an employer who's there for you, and a company that knows what it stands for.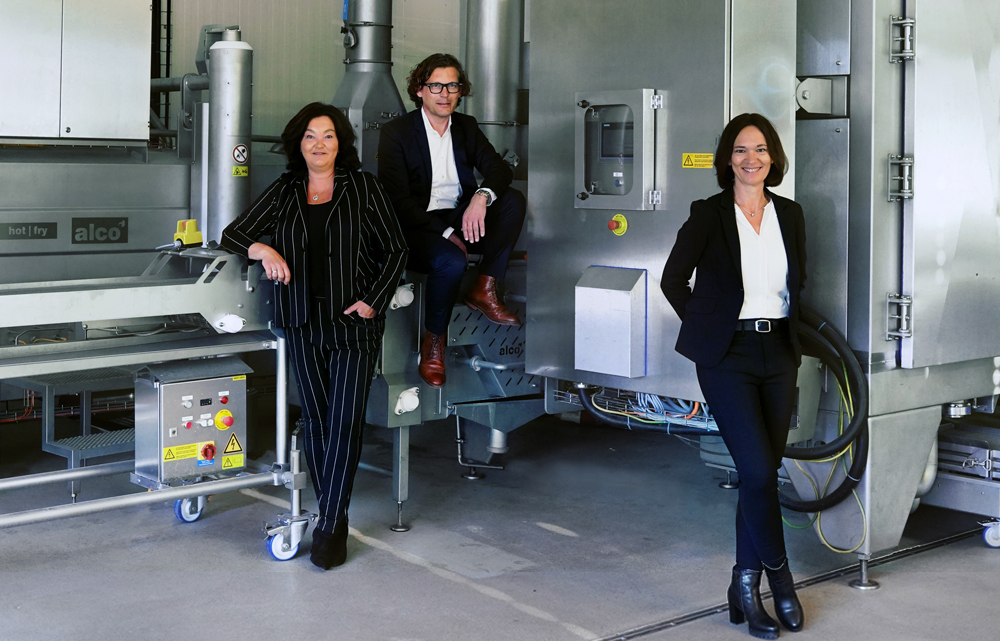 Nicole Algra as well as Thomas and Isabelle Kleine-Ausberg (left to right) run the family company in the second generation.
Philosophy
Reliability, trust, connection 
alco is characterized by constant further development, reliability, and flexibility towards our clients and a connection to our roots. Founded as a family business over 40 years ago, we've stayed true to ourselves to this day: Direct communication at eye level and the goal to extensively and optimally meet client requests, have made us what we are today: a strong partner in the food processing industry. Our employees, clients, and end users notice that – thanks to us providing innovative solutions that are individually tailored to your needs!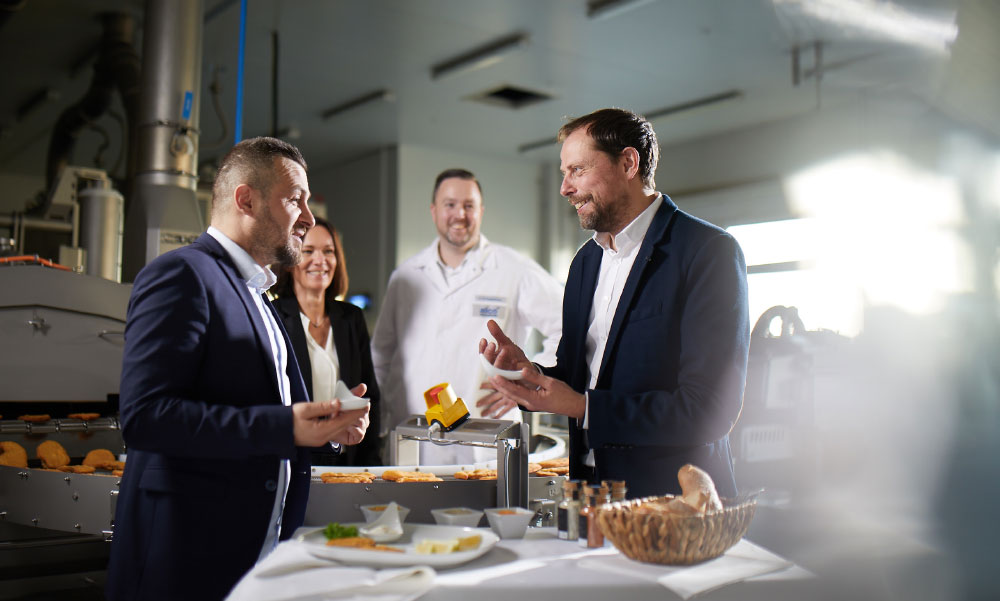 History
Food Lovers for over 40 years
A push towards innovation, the cohesion of the family, and a lot of perseverance and diligence marked the beginning of the company. alco was founded in Bad Iburg in 1977 based on the idea from Heinz and Gertrud Algra and started off as the general German distributor for a Dutch machine manufacturer. In 1995, we started producing food processing machines on our own and have extended our portfolio one machine at a time ever since. What was once a small office has meanwhile become a large company headquarter, and we've rapidly grown in recent years. One thing, however, has remained the same: our aspiration to make the best machines of the industry.
You can find out more about our development in our anniversary brochure.
References
Quality you can taste!
Noodle sauces from Barilla, pizza from Wagner, or sausages from Wolf: A lot of quality food is produced using the machines from alco. The excellent quality and flexibility to be able to address client requests individually, make alco a reliable partner for small and large businesses.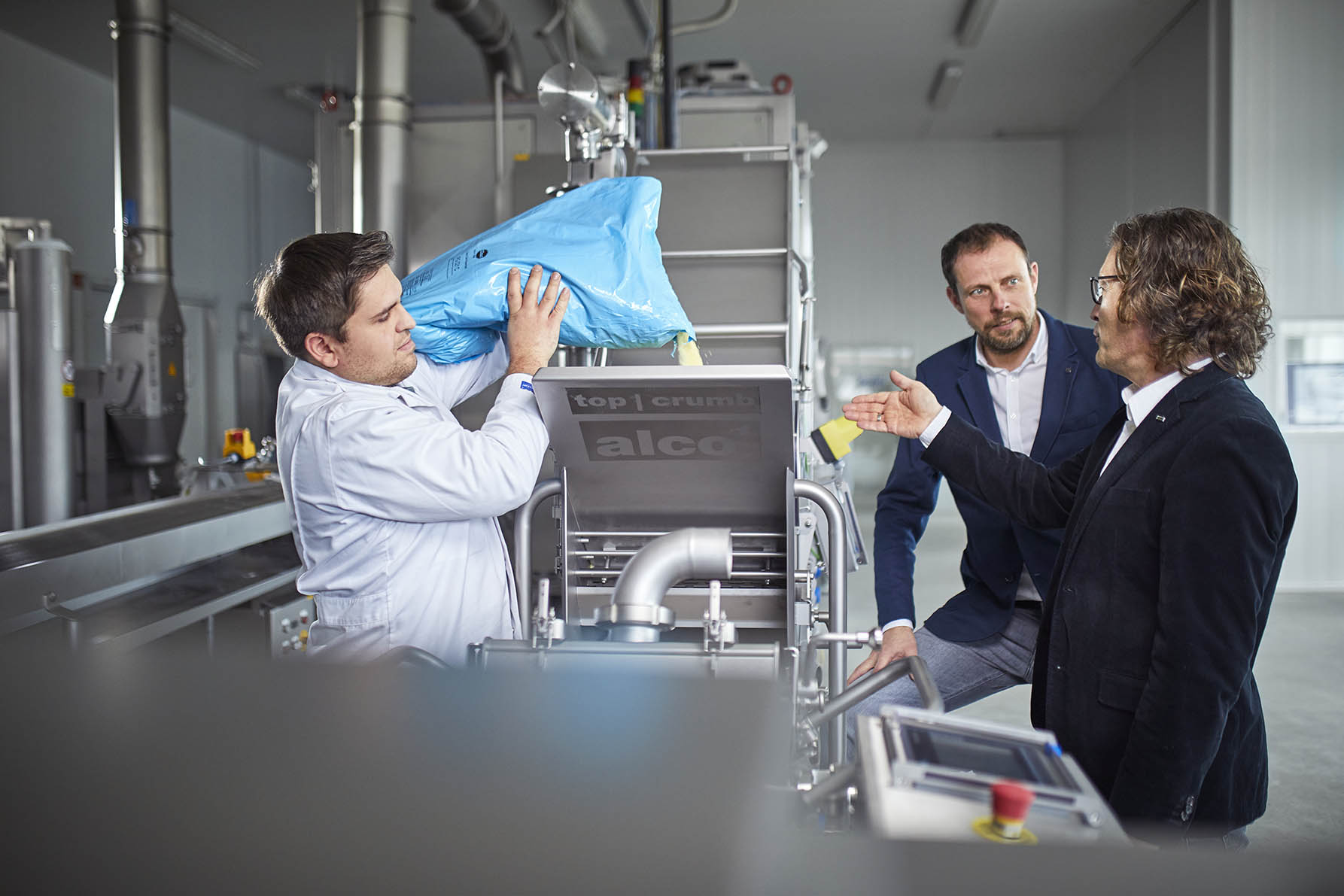 Application Technology Center 
Individual machines for your product
At our highly modern application technology center, we'll test machines and lines for you under production conditions. Here, our specially trained technicians and product advisors will develop new products, production processes, or applications with you. See for yourself and schedule an appointment with us!
Service & Trading partners
We've got the solution!
We don't only sell machines and equipment; we'll provide you with the best service surrounding our product range, so your production runs smoothly: What's important to us is not just to eliminate technical disruptions but most of all to meet your requests, simply, competently, and all over the world.
Our contacts will support you in planning, purchasing, commissioning, and maintenance with advice and assistance. Give it a try!
Contacts
There's no sure-fire recipe for your ideas – let's develop a solution together!
Let us find out how we put your ideas in practice the best possible way. Our project managers will advise you on appropriate production lines and every possibility on customizing our machines the way you like it.