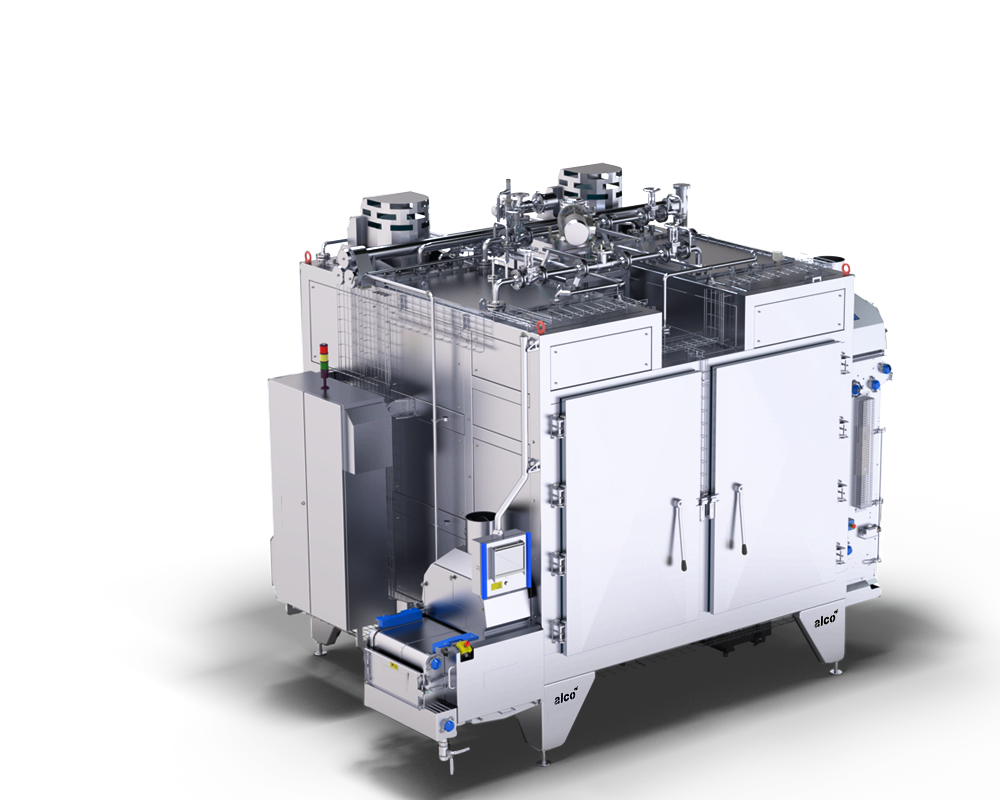 The Spiral Oven ASH: 

Roasting efficiently and gently
Our spiral oven serves for cooking and/or browning your products with steam, hot circulating air, or both. Its spiral belt guide allows plenty of room in our oven for products, which are cooked in a gentle way. 
Function
Cooking, heating, browning: The spiral oven from JBT ALCO slowly and gently runs products through the cooking process by means of a spiral conveyor belt that can be extended if required. That way, large quantities of your product will be cooked, roasted, browned, or just steam-cooked very evenly in the spiral oven with circulating air and/or steam. Two successively activated spirals allow for cooking over different climate zones with a higher amount of output. In addition, you can set the gap between the individual spiral levels exactly. That way, even larger products like whole chicken, burgers, or lasagna get their appetizing brownness and succulent consistency.
Features
Our spiral oven heats, cooks, and browns products through circulating air and/or steam. Adjust the spiral belt guide individually to product quantity and size.
Perfectly suitable for:
meat loaf, whole chickens, burgers, nuggets, bacon, lasagna, pretzels
Details
Continuously adjustable production speed

Suitability for products of various sizes thanks to a selectable gap between the individual levels of the spiral

Optionally heated electrically or with thermal oil or steam-powered

Targeted airflow in the plant itself guaranteeing optimal and uniform heat transfer and browning 

Infinitely variable ventilators

Steam injection bars for setting the desired humidity

Optional dew point control for maximizing yield

Process temperature infinitely variable up to max. 260 °C

Automatic, continuous belt wash system in combination with CIP nozzles in the interior of the oven ensures perfect cleaning

Intuitive operation through a touch panel with recipe management

Linked with the remote maintenance service

Insulated housing design for preventing energy losses

Made entirely of stainless steel and food-approved plastic

High operating safety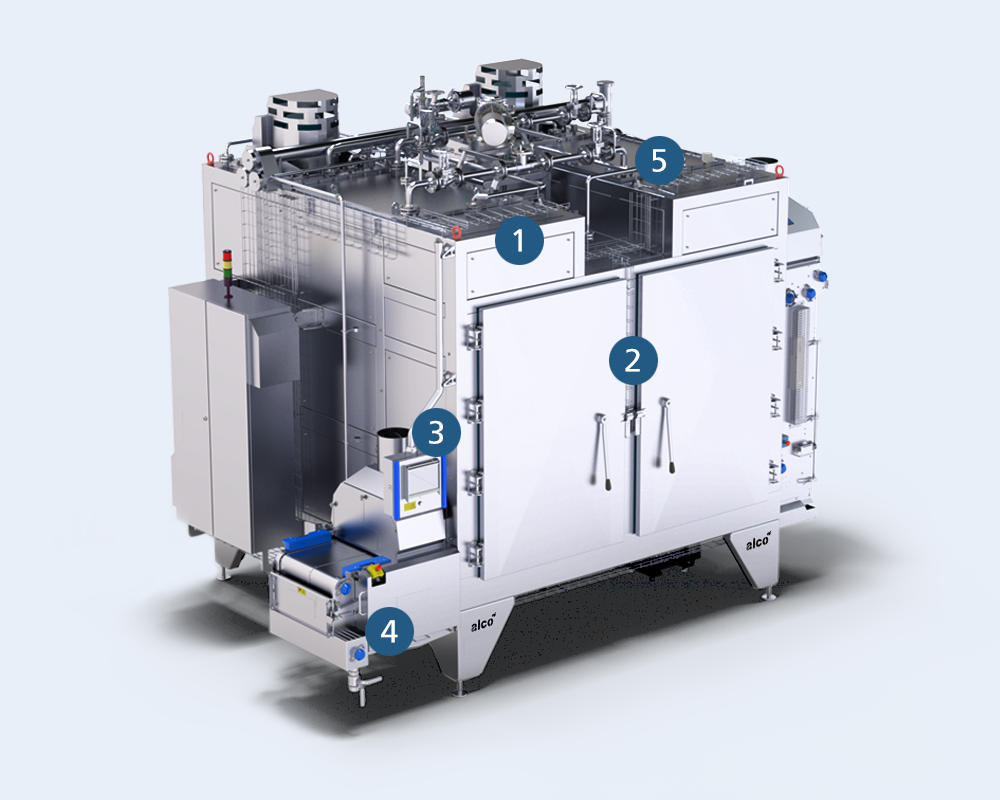 Our spiral oven
1: Top performance heating elements
ensure efficient heat transfer. Choice between electrical and thermal oil and steam-powered heating elements possible.
2: Variable stage belt system
allows for the selection of 5 to 10 levels.
3: PLC control
controls the plant in a smart and user-friendly way through a touch panel with functions like recipe management, etc.
4: Automatic belt wash system
continuously cleans the conveyor belt by means of rotating brushes and water spray lances.
Optional
5: Steam nozzles
additionally heat the product through direct steam injection for lowest weight loss.
Accessories
We've developed suitable accessories for our spiral oven that facilitate processing and provide additional functions for you. Ask your contact about all machine options and get equipment that's perfectly tailored to your needs.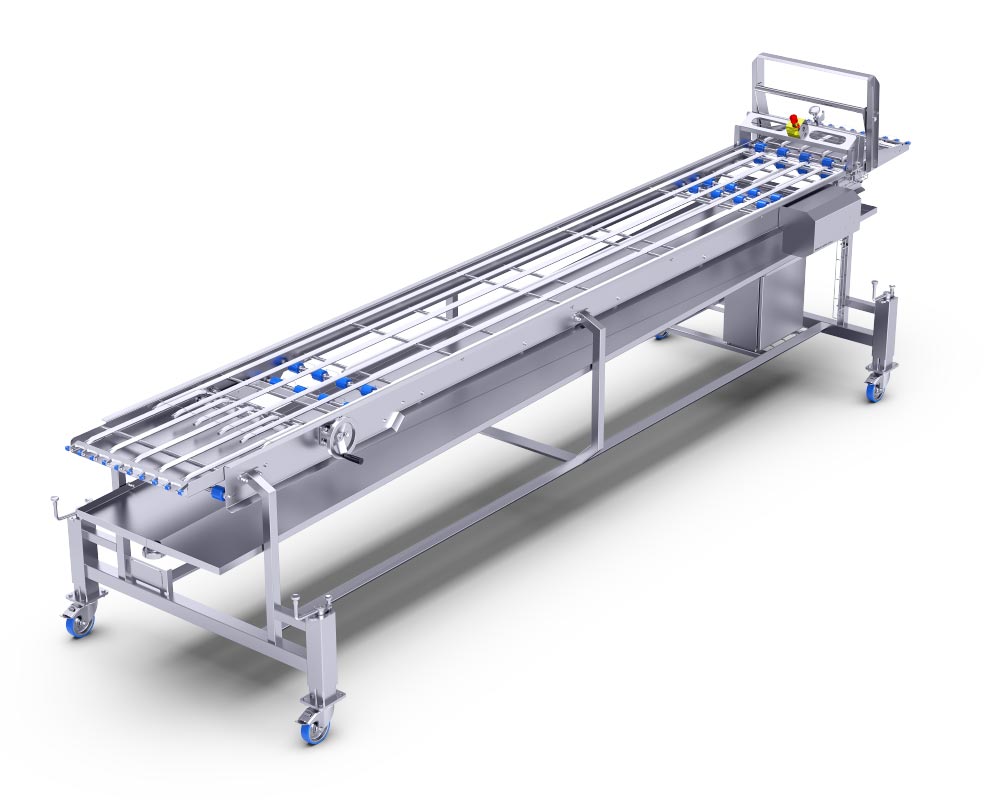 Even in front of and behind our spiral oven, you can count on our reliable technology. Our conveyor technology ensures optimal line integration and convenient filling. From different conveyor belts for all requirements to spiral conveyors and lifting and tilting devices to special solutions made just for you, we've got the right accessories for your food processing machines.
Got any questions? We'd be happy to personally advise you!
You can get more information on the spiral oven and our food processing machines right from our team. We'd be happy to help you out in making plans, a purchase decision, and maintenance arrangements for your machine.