|
IFFA 2022 is over. The best is yet to come.
IFFA closed its doors after six successful tradeshow days. More than 50,000 visitors from 129 countries attended the leading international trade fair for the meat industry from May 14 to 19, 2022. With 72 percent internationality, IFFA thus maintains its high relevance for the global industry. While visitors enjoyed a wide range of services, exhibitors focused primarily on new developments and proven technologies for the sustainable and efficient production and packaging of meat and alternative proteins. Collectively, alco as well as its competitors in Hall 8 illustrated future process solutions for the industry and set short- to long-term trends. In keeping with the motto "Your flexibility - always our focus", the machine builder from Bad Iburg presented a variety of high-tech machines for the food industry, Made in Germany. Both existing and new customers headed for alco's booth specifically to find out about innovations and developments in this field and to view the equipment live on site.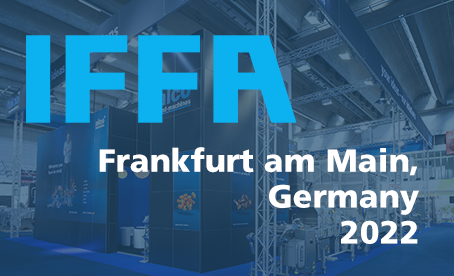 IFFA 2022 is now over. But the best is yet to come. The new products presented in Frankfurt, the AFM PRO forming machine and the ABM Vario-Flip flouring system, are ready to be tested in alco's application technology center for realistic product tests with customers and to discuss individual adjustments. With the ABM Vario-Flip preduster as one of the trade fair highlights, the alco team once again demonstrated a contemporary assessment of the market as well as know-how in the field of food technology.
The machine now combines two coating styles in just one system: as a level-flow variant, products are floured, sugared or seasoned in the classic way. Via the innovative Vario-Flip variant, the product inside the machine performs four successive flips of 180° each, absorbing more coating material with each flip, for a rough, natural and, above all, handmade coating result. Thanks to this new application technique, sensitive shaped products such as chicken tenders or fish sticks, but also irregular shaped products such as chicken parts can be coated completely and in homemade style.
During development and design, the experts at alco made sure that it is possible to switch between the two variants without tools and without stopping production. At the same time, the flip height can be adjusted without tools during ongoing production. The 2-in-1 machine is thus perfectly geared to the increasing demand for homemade-style products and, in contrast to drum breading lines, also offers fragile molded products an appropriate finish.
"IFFA 2022 was a complete success and the entire alco team did a really good job. With the two trade fair highlights, the AFM PRO and the ABM Vario-Flip, we succeeded in presenting real novelties on the market of food processing machines. IFFA has positively surprised us, motivated us and shown that we are on the right track," affirms Isabelle Kleine-Ausberg, shareholder/managing director of alco.
Do you have any questions? We will be happy to advise you personally!
For more information on the ABM Vario-Flip, the AFM PRO and our food processing equipment, please contact our team directly. We will be happy to help you with the planning, purchase decision and maintenance of your machine.