|
Fryer AGF PRO: Behind the Scenes
In times of a global pandemic and substantial restrictions in everyday professional and private life, we take you onto a journey behind the scenes of alco. In the context of a major order from Brazil, we took the chance to follow along the planning and production phase of two alco fryers and look over the shoulders of our engineers and builders. An insight into the high-quality production of alco, combined with interesting numbers and facts.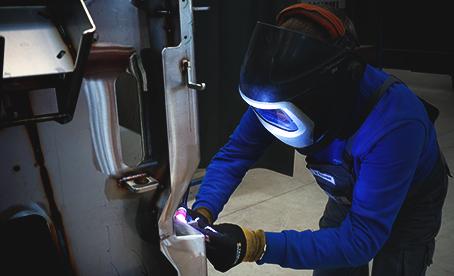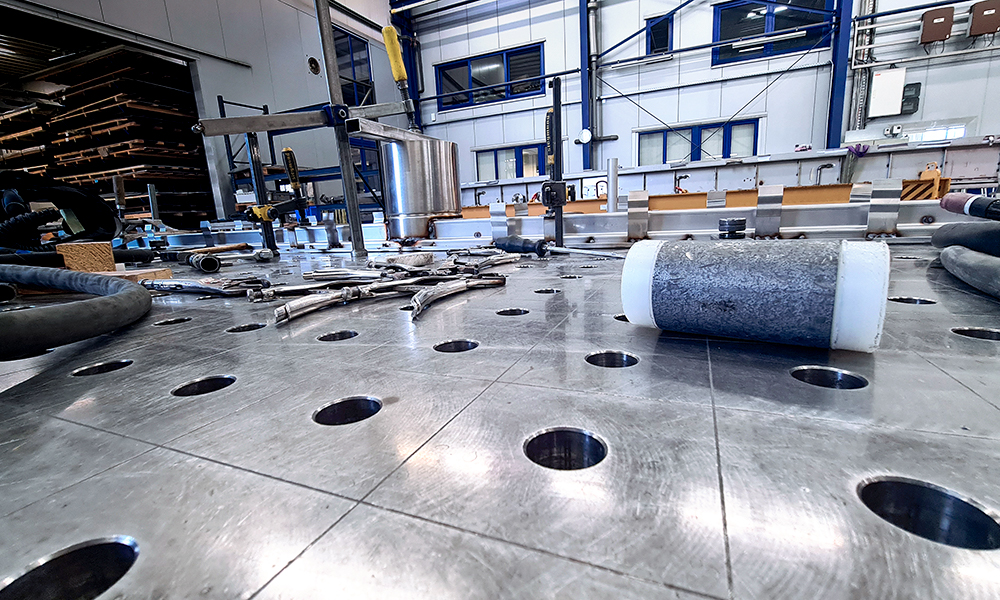 Constructing a machine for the food industry requires full commitment.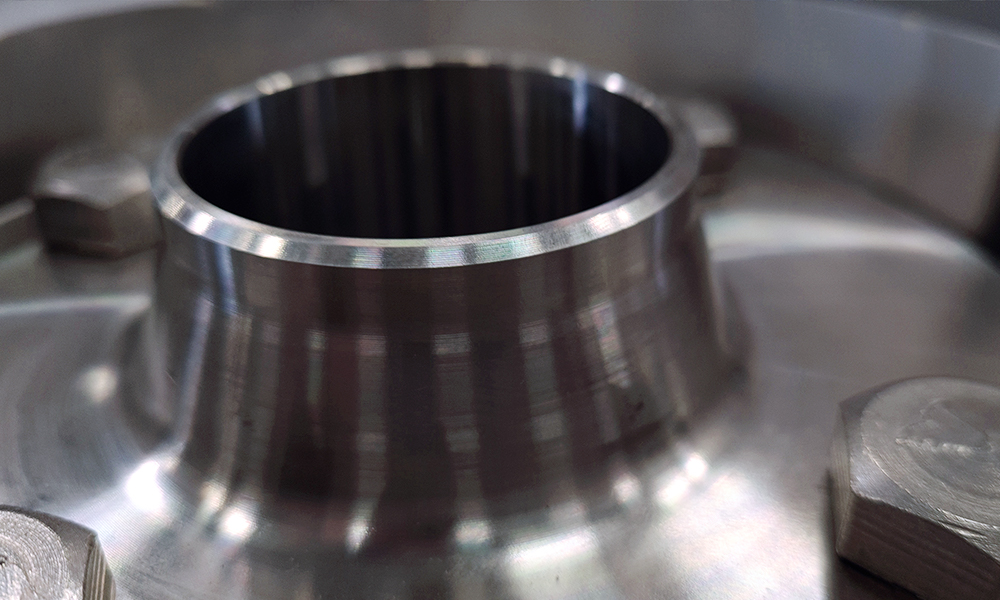 Laser-guided drillings and cuttings are the standard for a very accurate and precise realization of customer requirements.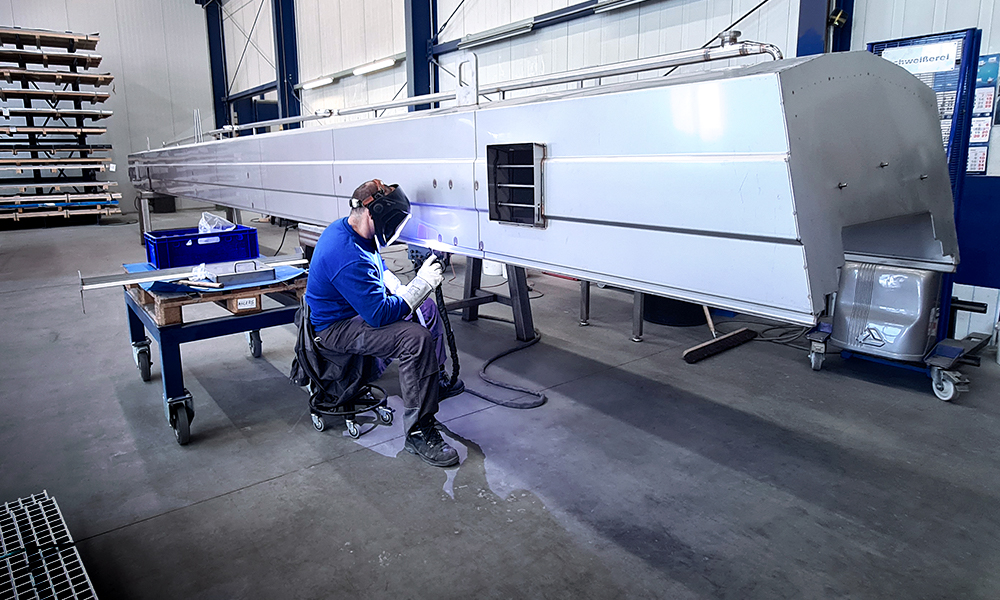 At a length of 12.500 mm, the lid of the fryer seems to be endless.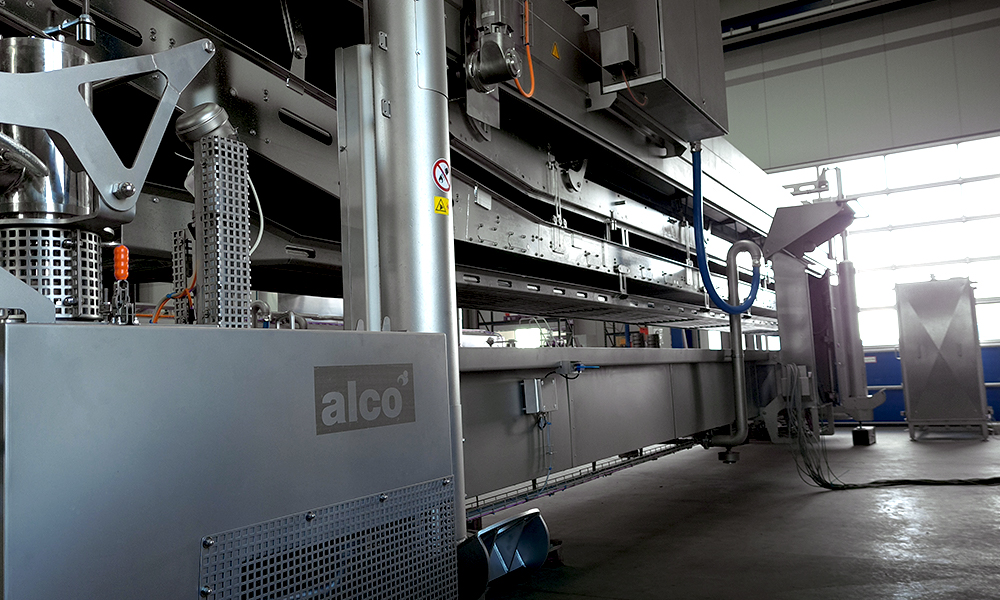 The alco fryer AGF PRO in opened cleaning position.
When the poultry-, beef- and pork-processing company started to make plans about expanding their plant in South Brazil, they placed great value on individual customization, high-performance and high quality standards. Thus the job for alco was a balancing act of paying attention to detail while keeping an eye on the bigger pictures - a balancing act that characterizes the alco competence already for decades. It is hardly surprising that key factors like sustainability, energy-efficiency as well as processing plant-based food, are the order of the day when it comes to projects of this scale, following these projects as kind of a guideline for every single component of the alco industry machines.
The alco fryers are in series equipped with fully isolated oil tubs, vapor barrier systems and are always designed and constructed according to latest hygiene and safety standards. This construction method allows for low energy consumption and constant high temperatures. Efficient and energy-saving, high-power heating elements, optionally heated electrically or with thermal oil, pave the way for modern requirement profiles of an industrial fryer.
After months of travel and the final commissioning in Brazil, both fryers will be operated by a minimum of 460 kW power up to a process temperature of around 205 °C, using thermal oil. With a width of 2.1 m and a height of 2.6 m, both fryers range to a length of 12.5 m, providing enough space for processing several tons per hour of convenience products. Customized specifications are not only possible regarding the design, but also the control of every alco fryer: frying times can be continuously adjusted from 25 seconds up to 250 seconds.
Processing low-fat cooked poultry and beef products, the company from Brazil imposes high standards on tasty and appetizingly looking products. Ready-to-eat products for the refrigerated section, plant-based meat or classical convenience products made from poultry, pork and beef, constantly face increasing standards - just like the food processing machines. The alco innovation and research department is therefore always looking for improvements and useful innovations. Sediment removal systems with scrapers, sieves and sediment trolleys with water sprinkle systems increase the durability of the frying oil. Additional oil-jetstream-systems use several nozzles and a high-power circulation pump to remove floating particles from the surface of the frying oil. For ensuring an extended hygiene and product safety, alco developed electrochemically polished belt systems. The advantage is an extremely smooth surface, which minimizes the adhesion of frying oil and other sediments and immensely reduces cleaning times of the machine.
Get more information about key facts and fitting accessories on the machine page of our fryer.
For more news and updates on alco machines as well as season highlights and other interesting best-in-practice examples, subscribe to our monthly newsletter or download our latest appetizer.