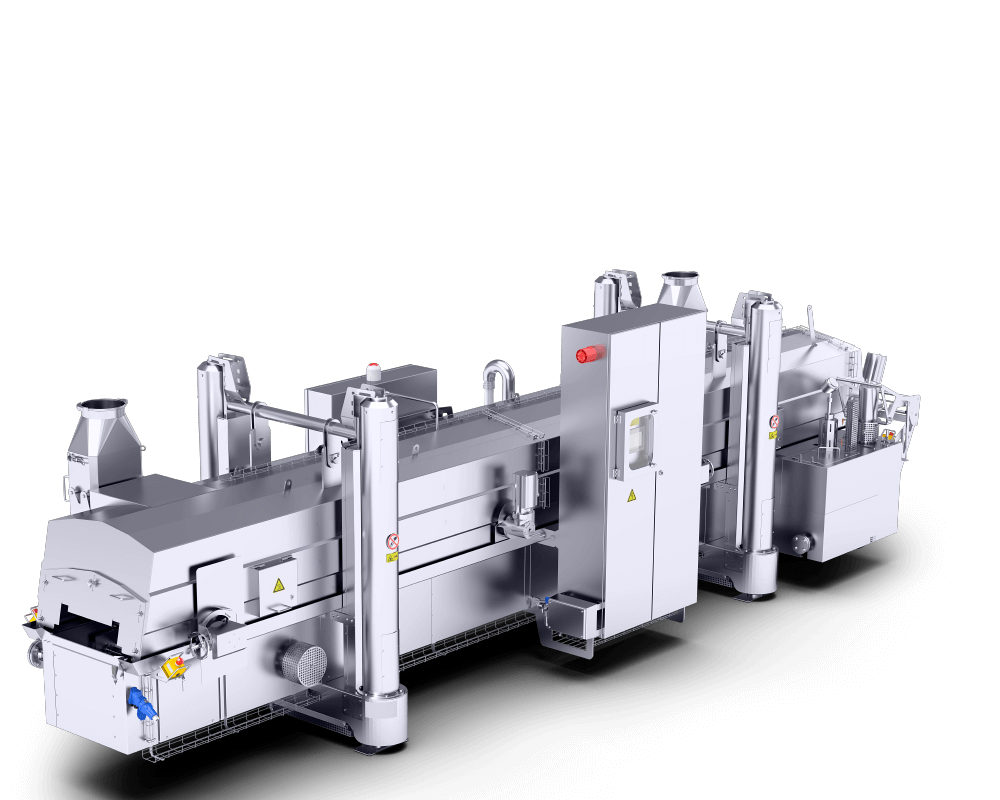 The Fryer AGF: 

Frying all the way
Flash fry or fry it all the way? Our fryer can be used for both purposes. That way, you can optimally cook various food in oil or fat.
Function
Our fryer has many uses, so you don't need to make a decision! Its flexible frying settings can be used for flash frying or searing or for full cooking. Vegetarian food is heated in hot oil just as well as meat is. Hash browns, falafel, or meatballs get their individually set core temperature. The result is plain to see: Meatballs and other fried food entice with an appetizing aroma and brownness.    
Features
Our fryer fries or cooks meat, fish, and vegetarian food.
Perfectly suitable for:
meat balls, schnitzel, falafel, hash browns
Details
Continuously adjustable production speed

Optionally heated electrically or with thermal oil

Different belt systems for optimal adjustment to the product

Stainless steel geared motors for the upper and lower belt

Continuously adjustable belt gap

Process temperature continuously adjustable

Dirt transport system for separating sediment

Optimal heat transfer through the oil circulating system

Market-standard-coordinated belt widths for optimal line integration

Intuitive operation through a touch panel with recipe management

Linked with the remote maintenance service

Made entirely of stainless steel and food-approved plastic

High operating safety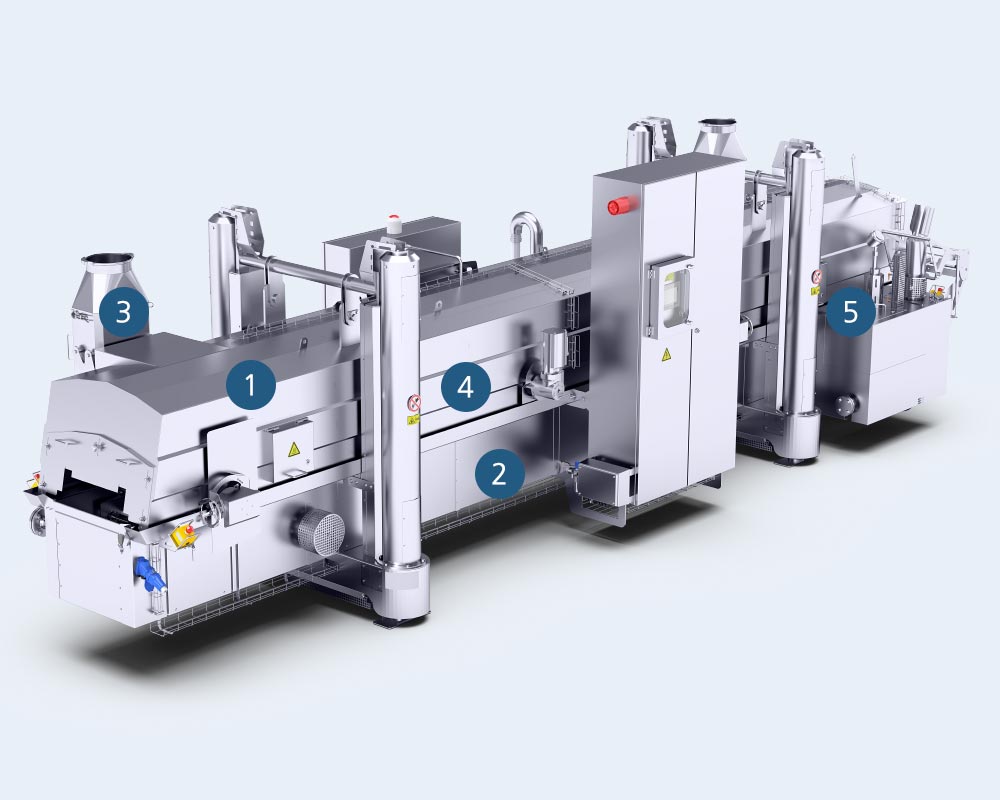 Our fryer
1: Insulation
Vapor barrier system as sealing between fully insulated oil tub and hood.
2: Top-performance heating elements
ensure efficient heat transfer. Choice between electrical and thermal oil-powered heating elements possible.
Optional
3: Exhaust chimney system with filter
directs the exhaust through stainless steel chimney pipes from the suction sockets of the fryer out of the production room. Optionally, the exhaust from the fryer can effectively be prefiltered. 
4: Cross-dirt transport
removes dirt particles early on.
5: CIP
is a complete cleaning system for the interior of the fryer with preconnected automatic emptying.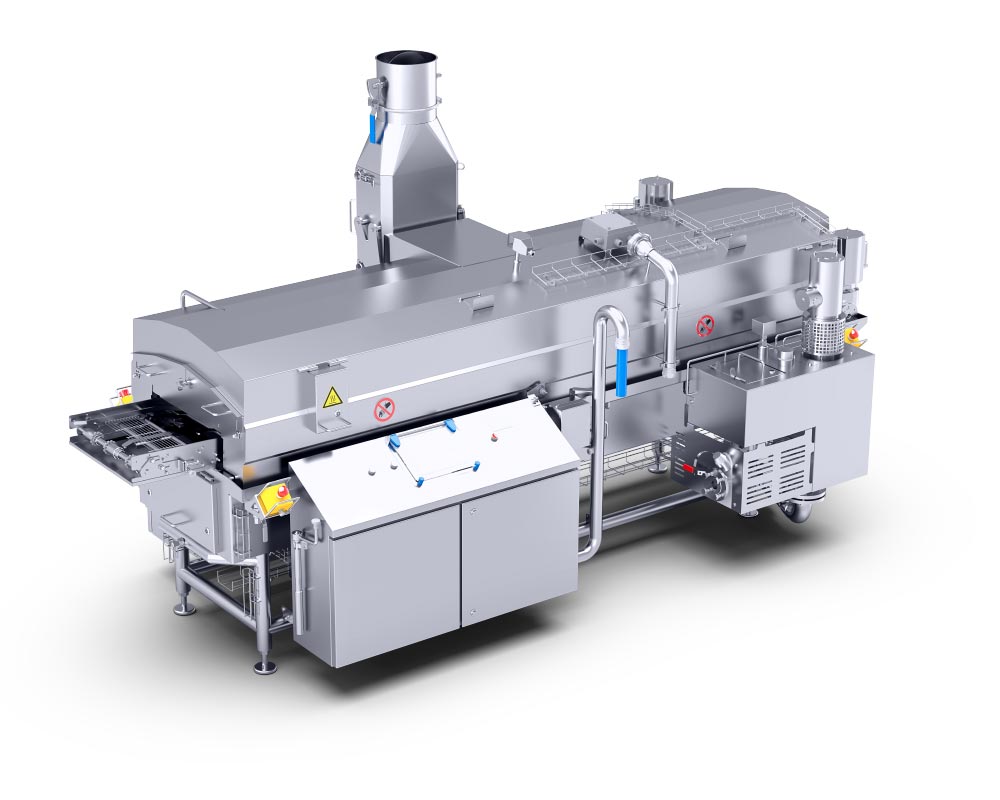 The ECO Fryer
Our ECO version is particularly suitable for smaller businesses. 
Identical functionality

Space-saving, compact design

Cost-saving version
Accessories
We've developed suitable accessories for our fryer that facilitate processing and provide additional functions for you. The oil filer, for example, will continuously filter foreign substances from the frying oil during operation already, reducing your production costs while increasing the product quality.
Ask your contact about all machine options and get equipment that's perfectly tailored to your needs.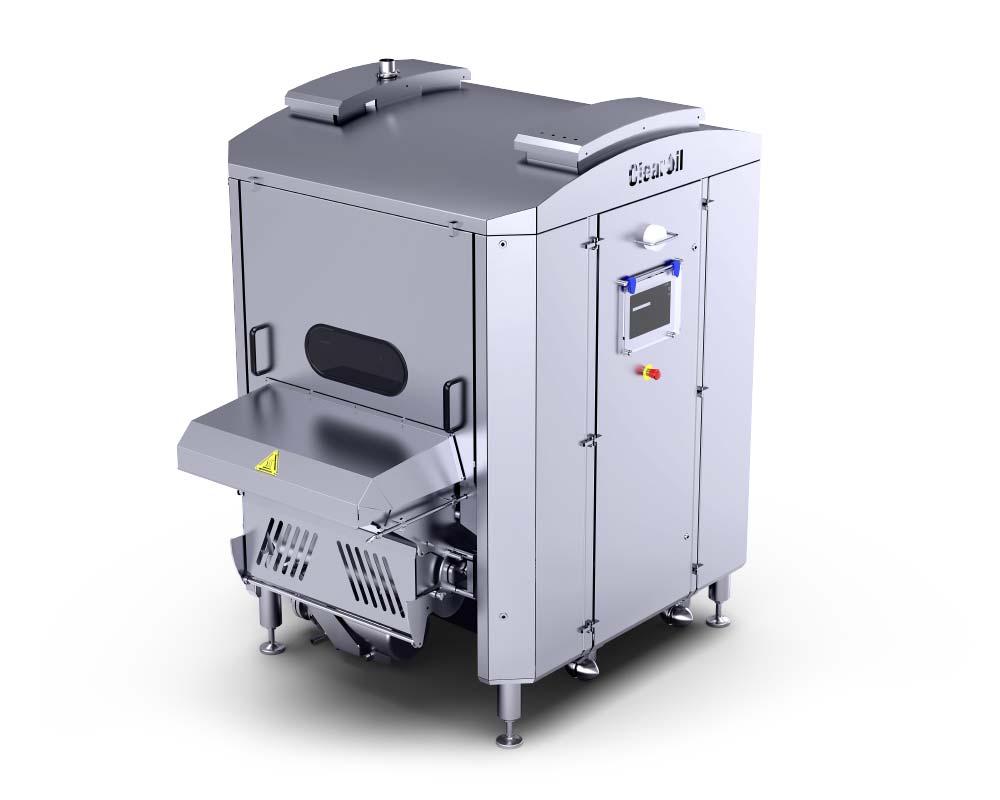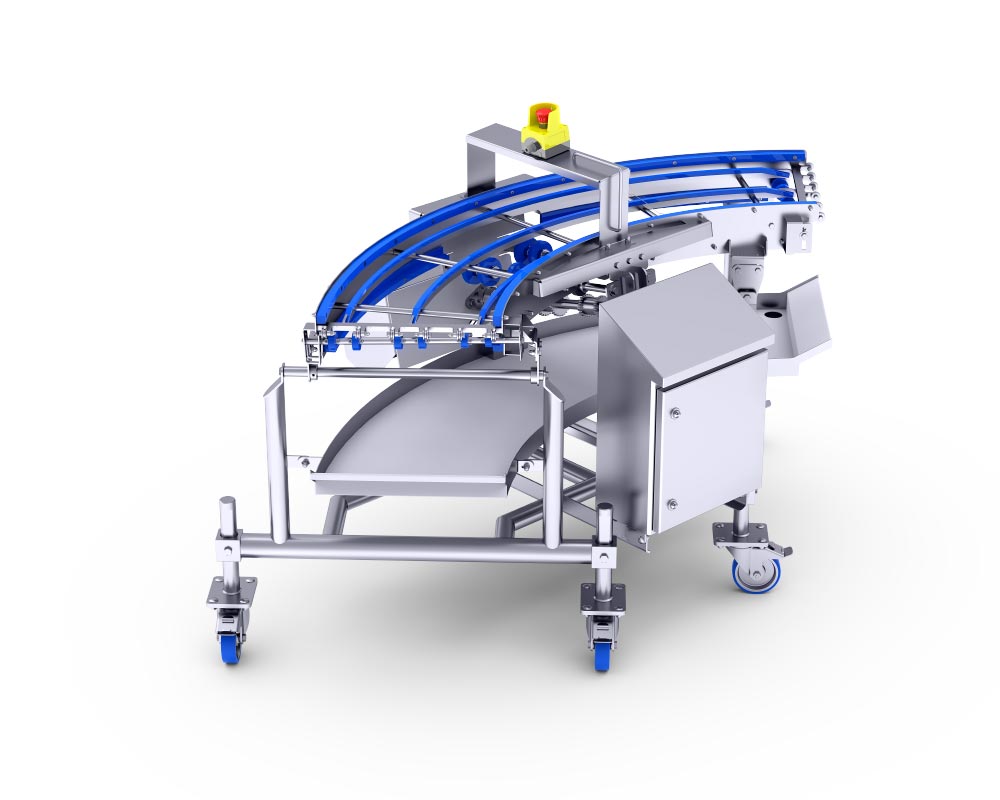 Even in front of and behind our fryer, you can count on our reliable technology. Our conveyor technology ensures optimal line integration and convenient filling. From different conveyor belts for all requirements to spiral conveyors and lifting and tilting devices to special solutions made just for you, we've got the right accessories for your food processing machines.
Got any questions? We'd be happy to personally advise you!
 
You can get more information on the fryer and our food processing machines right from our team. We'd be happy to help you out in making plans, a purchase decision, and maintenance arrangements for your machine.