|
alco in the world of motocross
Motorsport and machine engineering. Stefan Ekerold and alco. We are very pleased to be Stefan Ekerold's new sponsor and partner from this season onwards and thus to be able to accompany the development of his camp in the long term. alco also sees this partnership as a strategic cooperation with regard to the current job market. As a sponsor in motorsports and a global player in the food industry, alco creates an interesting interface for apprenticeships and full-time jobs for technology enthusiasts.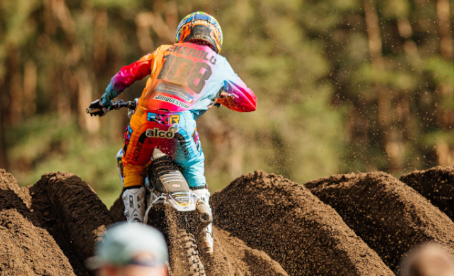 After all, both camps are a perfect match: family-oriented, focused and with a clear will and hands-on mentality to success. As the son of the 1980 road world champion Jon Ekerold in the class up to 350 cc, Stefan Ekerold has been racing in the ADAC MX Masters since 2017. Last season, the Husqvarna rider achieved the best placing of his career so far: with sixth place overall, Ekerold became the third-best German in the series behind Tom Koch and Max Nagl. The current season in the ADAC MX Masters and DM Open is already off to a promising start and alco is setting itself up for a successful future together with the Ekerold team.
Click through the gallery for more impressions of motorsport, Stefan Ekerold and his team. You can also find all upcoming races of the ADAC MX Masters here.
The athlete also cuts a good figure off the track: At the beginning of the sponsorship, Stefan Ekerold got his own picture of alco, food machines and the individual steps from the idea to the completion of a machine for the food industry. At alco's headquarters in Bad Iburg, the motocross pro was able to get a complete overview of his sponsor, gather impressions across all areas and take part in the production of vegan nuggets in person. The result is an amusing and informative video with lots of action.