|
alco at the Anuga FoodTec 2022
The four-day leading global trade fair for the international food and beverage industry was also a successful and exciting trade fair for alco as well as an ideal opportunity to meet known and new business partners and interested parties. Forward-looking ideas and positive industry forecasts created a lively atmosphere in corridors and on stands, spurring the rapid implementation of numerous, new ideas and at the same time confirming the success of even tried-and-tested concepts from alco. A total of around 25,000 trade visitors from over 120 countries were counted at Anuga FoodTec in Cologne. The attendance from other European countries and from Germany was very strong. The proportion of visitors from abroad was around 60 percent. Located in Hall 6.1, alco presented itself strongly, side by side with its competitors, so that the public had ideal opportunities to compare the world's leading machine builders in the convenience industry. alco used the potential of its stand size to offer visitors a wide range of insights into its extensive range of solutions for the food industry.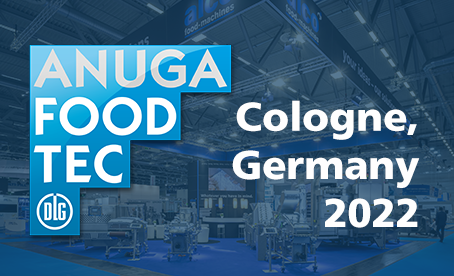 In addition to good discussions and informative exchanges, alco also used Anuga FoodTec 2022 to present some further developments such as the new AFM PRO forming machine. The rejuvenated facelift of the forming machine presents itself with a 30% increased forming and portioning process. As a result, the AFM PRO achieves a process speed of over 70 cycles per minute. At the other end of the machine, the progressive mold plate system helps to meet the demand for greater product variety and flexibility as economically and efficiently as possible. The principle of individually designable mold plates in 2D, 2.5D or 3D enables fast and cost-effective product changes to almost any conceivable shape. Optimizations of maintenance flaps, sealing systems and the placement of individual new components have on the one hand raised the "hygienic design" to a new level and on the other hand enabled easier accessibility, cleaning and maintenance.
The highly relevant key topics of the industry, efficiency improvements in machines and entire process chains, as well as digitalization, are and will be topics at alco in the future. With the continuous improvement of machines and processes, sustainable process improvements and performance increases can be achieved in food production. Specialist personnel on the lines are relieved, resources are saved and food waste is reduced. One example of this is the progressive digitization and networking of machines for the purpose of process monitoring, control and analysis, and to support maintenance activities.
You did not have the opportunity to be on site at Anuga FoodTec? No problem. Just visit us at IFFA in Frankfurt am Main, Germany, from May 14 to 19, 2022.