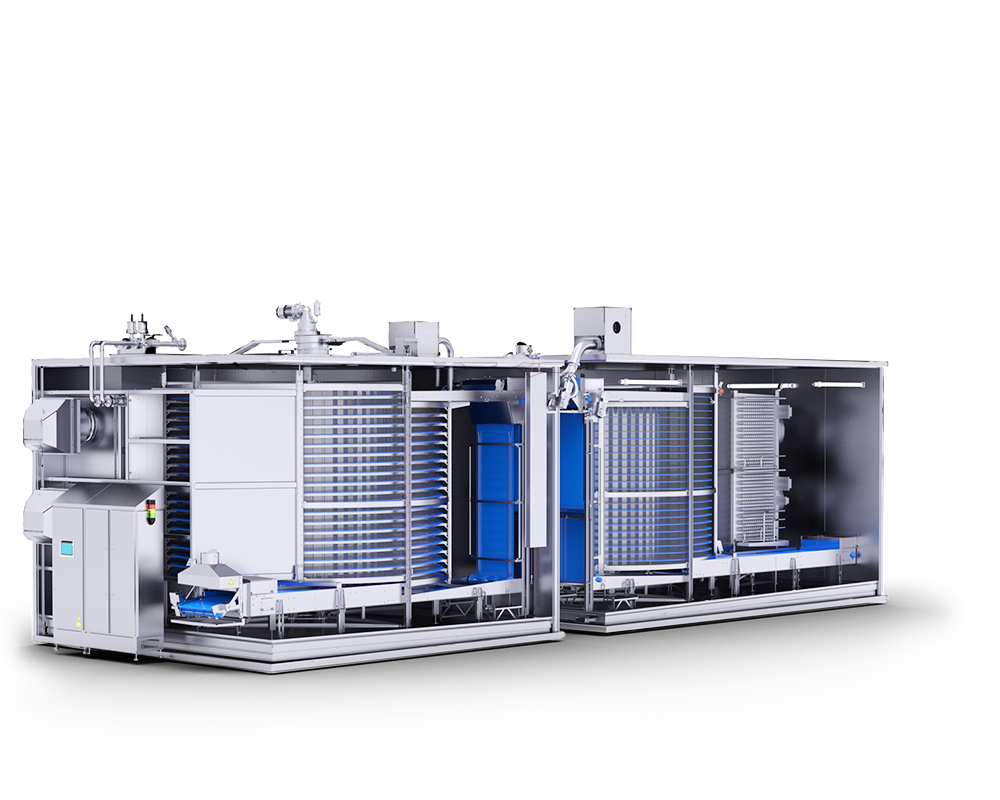 The Spiral Pasto ASW

: More durable
To increase the durability and quality of your products, you can resort to our individually made pasteurizer, whether for Nuremberg sausages, ready meals, or tortellini!
Function
Our spiral pasto is always used whenever packaged products are supposed to be pasteurized. Through a two-part pasteurization system with a separate heating area and at least one cooling area. Products are first heated evenly and quickly in the heating area to kill off any harmful germs. In the subsequent cooling area, products are re-cooled. This consistent and intense process significantly improves the durability and quality of food. To make more efficient use of energy consumption and to save packaging, several cooling areas can be integrated into the cooling line by choice. The spiral belt guide is flexible as well: It allows for space-saving assembly while maintaining the product quantity.
In addition, it can respond individually to the products to be processed, as the free space between the spiral levels and their order can be variably adjusted.
Features
Our spiral pasto pasteurizes packaged products through a two-part pasteurization system. For optimal results, each spiral pasto is customized.
Details
Continuously adjustable production speed

Suitability for products of various packaging like foil bags and various sizes thanks to a selectable gap between the individual levels of the spiral

Gentle, uniform, and quick heating guarantees first-class quality and structure preservation

Direct and/or indirect steam-heated systems and sprinkling pasteurizers available

Exact, infinitely variable temperature regulation

Infinitely variable ventilators

Nozzle bars allow for even sprinkling with hot or cold water

Multiple spirals can be combined in one machine to achieve different temperature areas

Intuitive operation through a touch panel with recipe management

Linked with the remote maintenance service

Insulated housing design for preventing energy losses

Made entirely of stainless steel and food-approved plastic

High operating safety
Perfectly suitable for:
Nuremberg sausages, bratwurst spirals, tortellini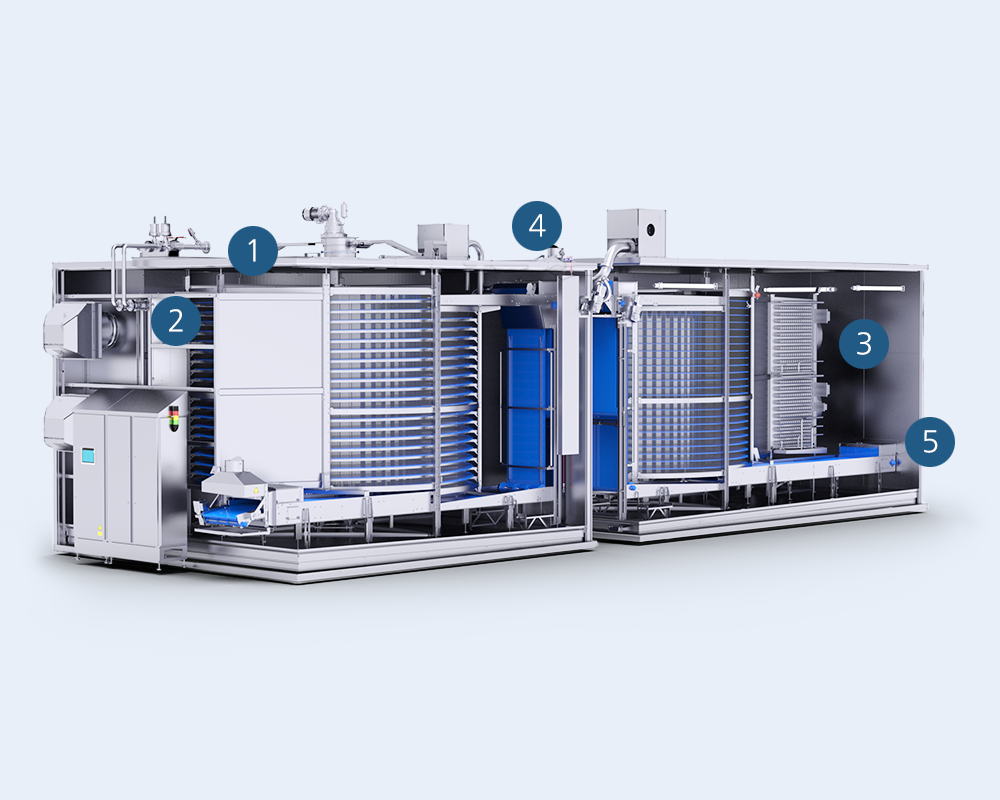 Our pasteurizer
1: Heating registers
can be freely selected between electrical or thermal oil or steam-powered registers.
2: Hot water system
heats products by sprinkling hot water (pasteurization).
3: Hinged ventilators
facilitate access to the heating register, improving the hygienic design.
Optional
4: Dehumidifying systems
use exhaust air, condensation, and absorption to reduce room humidity.
5: Belt drying/sterilization
improves the hygienic design thanks to a side channel compressor with air knife, heating register, and exhaust flap.
Conveyor technology
Even in front of and behind our pasteurizer, you can count on our reliable technology. Our conveyor technology ensures optimal line integration and convenient filling. From different conveyor belts for all requirements to spiral conveyors and lifting and tilting devices to special solutions made just for you, we've got the right accessories for your food processing machines.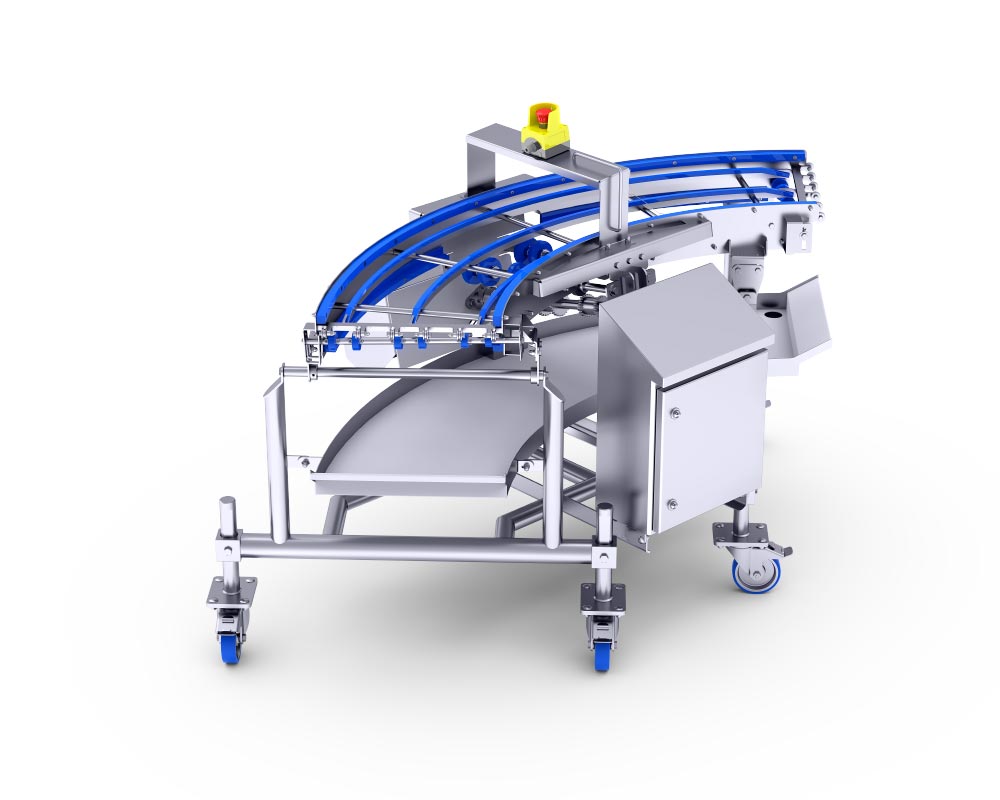 Got any questions? We'd be happy to personally advise you!
You can get more information on the spiral pasto and our food processing machines right from our team. We'd be happy to help you out in making plans, a purchase decision, and maintenance arrangements for your machine.