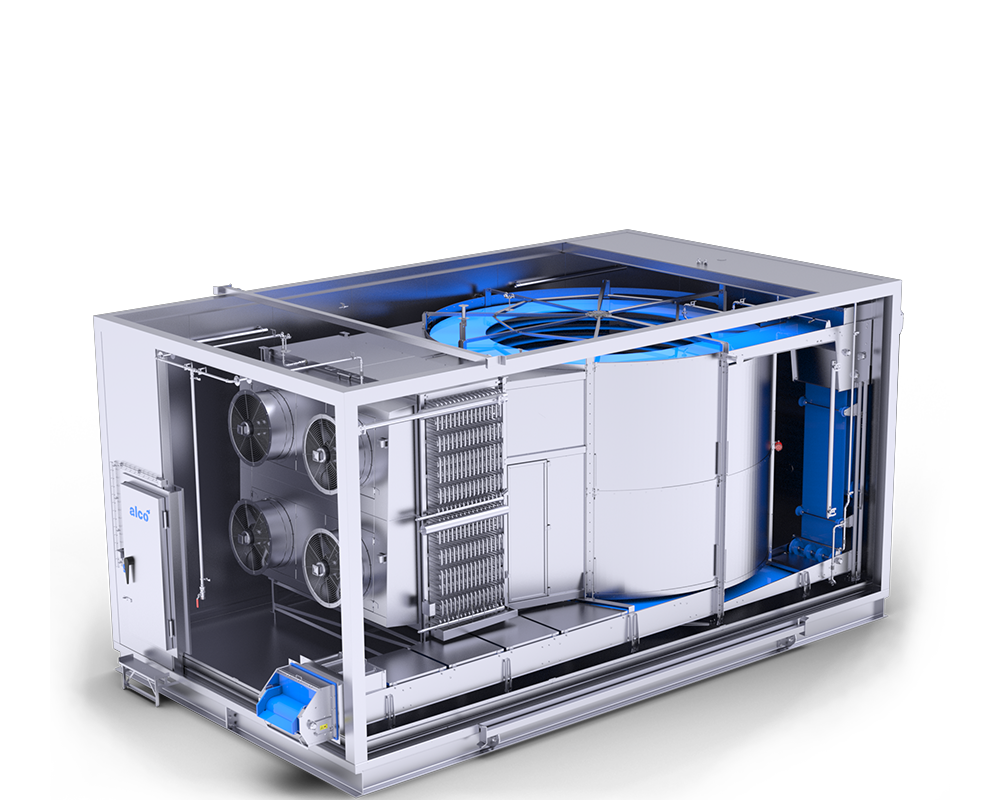 The Spiral Freezer ASK: 

Evenly and gently cool
With our spiral freezer, you'll cool and freeze your products quickly, efficiently, and hygienically. Thanks to the spiral technology, our cooler is also compact and effective.
Function
Freezing food guarantees easy product handling, optimal structure preservation, and maximal durability, freshness, and flavor. With the spiral technology, our spiral freezer allows for a maximal conveyor line within a small space. Thanks to the innovative belt system and the effective evaporator and ventilator unit, it provides an effective cooling process with minimal weight loss. 
Our special freezers will be designed just for you so you can use plant for food processing that's optimally tailored to your needs.
Features
Our spiral freezer is a machine for cooling and shock-freezing food. Its special feature involves the spiral belt guide that can be adjusted exactly to the individual cooling plan and the environment in special models.
Perfectly suitable for:
meat balls, fish filets, fruit cake, ice cream
Details
Continuously adjustable production speed

Suitability for products of various sizes thanks to a selectable gap between the individual levels of the spiral

Efficient cooling and freezing system for uniform, quick freezing of products to prevent losses through dehumidification

Horizontal air supply

Infinitely variable ventilators

Special belts and intake modules for the perfect product run

Combination of multiple spirals in one machine possible

Suitable for all freon refrigerants like ammonia NH3, carbon dioxide CO2, ice water, or brines

Different thawing options with circulating air, hot gas, water, or electrically useable

Intuitive operation through a touch panel with recipe management

Linked with remote maintenance service

Insulated housing design for preventing energy losses

Made entirely of stainless steel and food-approved plastic

Easy-to-clean design

High operating safety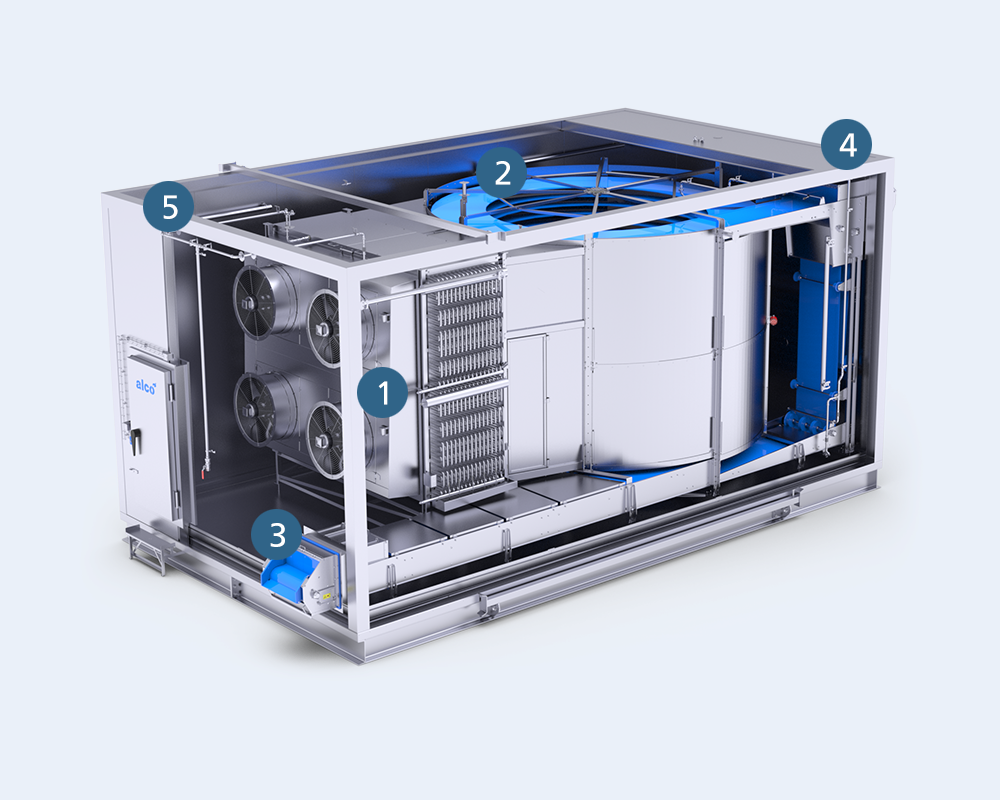 Our spiral freezer
1: Evaporator-ventilator units
transfer refrigerating capacity in an energy-saving and efficient way.
2: Variable level system
allows for the selection of 12 to 22 levels.
3: Hybrid belt
is a belt frame made of stainless steel with a product support surface made of plastic.
Optional
4: Insulation cell
consists of numerous individual panels or is completely sealed for increased tightness.
5: Cleaning system
ensures efficient cleaning of the conveyor system through pipelines and spray nozzles.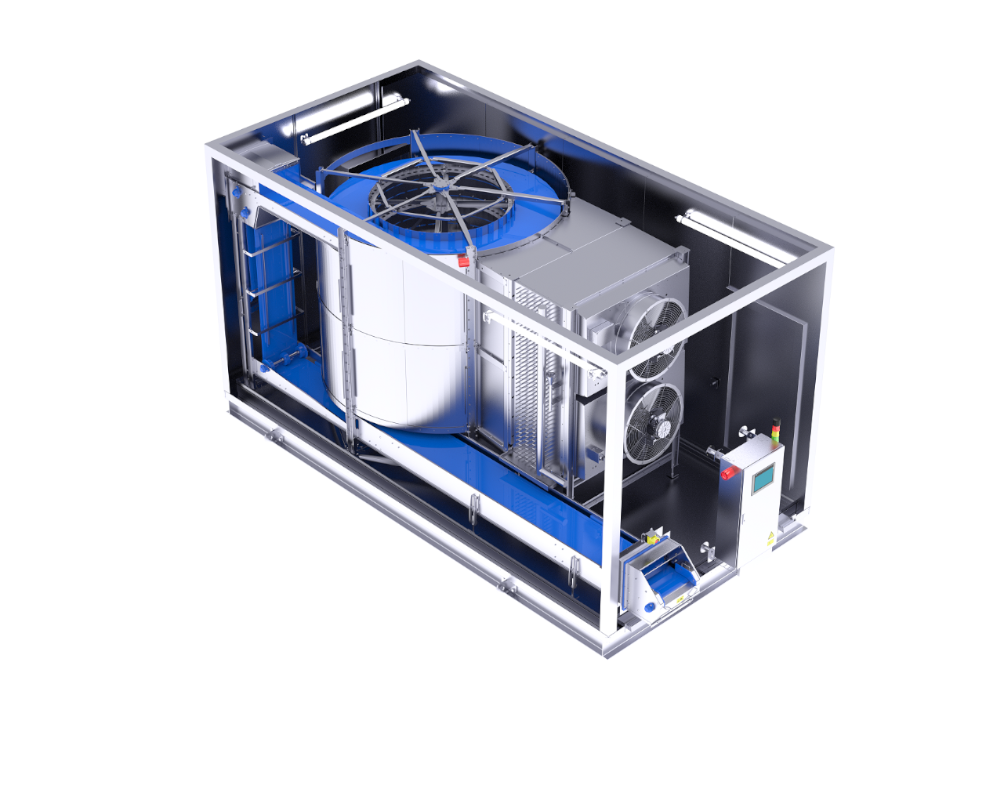 The ECO spiral freezer
Our ECO version is particularly suitable for smaller businesses. 
Efficient, adjusted to smaller businesses evaporator unit

Space-saving, compact design

Cost-saving version
Conveyor technology
Even in front of and behind our spiral freezer, you can count on our reliable technology. Our conveyor technology ensures optimal line integration and convenient filling. From different conveyor belts for all requirements to spiral conveyors and lifting and tilting devices to special solutions made just for you, we've got the right accessories for your food processing machines.