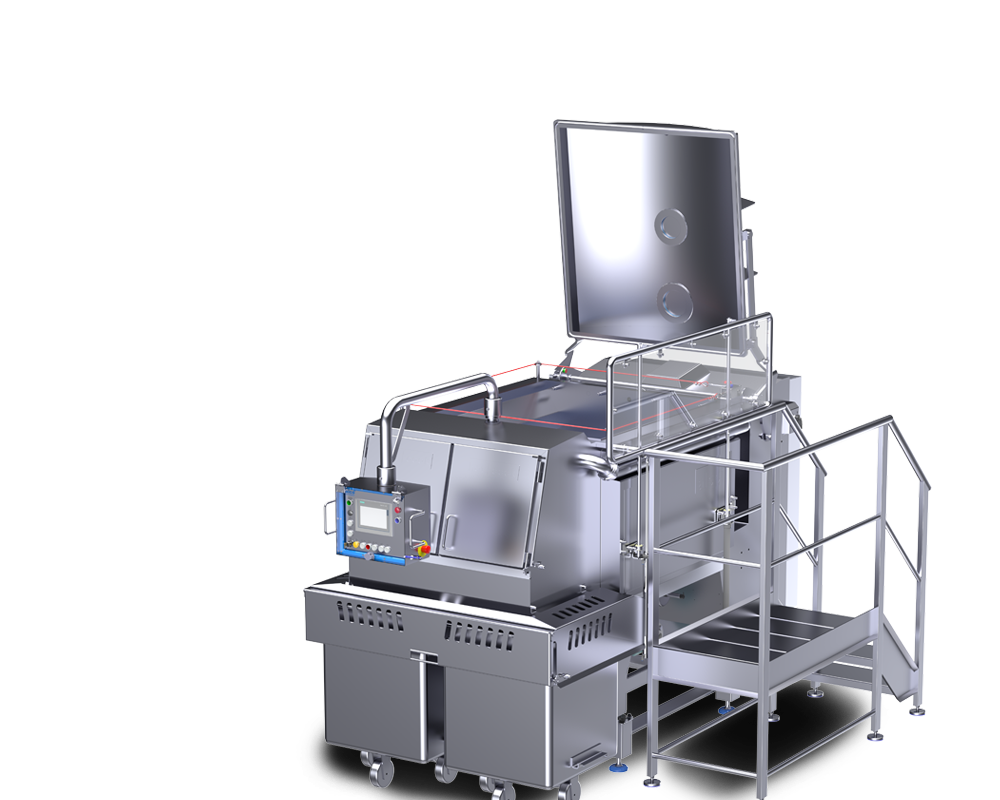 The HotCook 

AHC

: All-rounder for sauces, ready meals, and stews
Mixing, searing, cooking, reduction, and cooling: an entire production line in just one machine! Our HotCook is the complete all-purpose solution! Don't make matters more difficult than they need to be; count on tested and field proven technology that combines the function of a mixer and cooker.
Function
The highly efficient and rapid heat transfer of the HotCook from JBT ALCO ensures that seared food keeps its fresh taste. The HotCook also guarantees an ideally homogeneous mixing result, as changeable rotating devices thoroughly mix sauces and stews. Thanks to the paddle tools and even temperature distribution of our HotCook, nothing will get scorched on you!
Features
Our HotCook is suitable for mixing, cooking, searing, sautéing, braising, cooking with direct steam injection as well as for reduction and re-cooling of products. What's special about our HotCook is that it's a real all-rounder. Even sensitive products can be processed in a perfectly gentle way.
Perfectly suitable for:
Soups, sauces, stews, fillings, ready meals, ground meat products, seafood concentrates, confectionary, vegetable preparations, ethnic food dishes
Details
Continuously adjustable production speed

Heatable special double-wall design with double-wave paddle mixing tools and scrapers

Suitability also for sensitive products thanks to gentle mixing tools 

Optionally heated with thermal oil or steam

Practical dosing device and weighing unit for easy recipe compilation

Pneumatically driven discharge flaps for easy emptying into standard transport vehicles or special containers

Changeable rotational directions for a perfect mixing result

Highly efficient heat transfer with short reaction times

Monitoring of the product, flow, and return temperature

Rapid cooling of products through optional vacuum cooling

Option of direct steam injection

Incl. a 

safety grid and cleaning platform

Intuitive operation through a touch panel with recipe management

Linked with 

the remote maintenance service

Made entirely of stainless steel and food-approved plastic

Easy-to-clean design 

High operating safety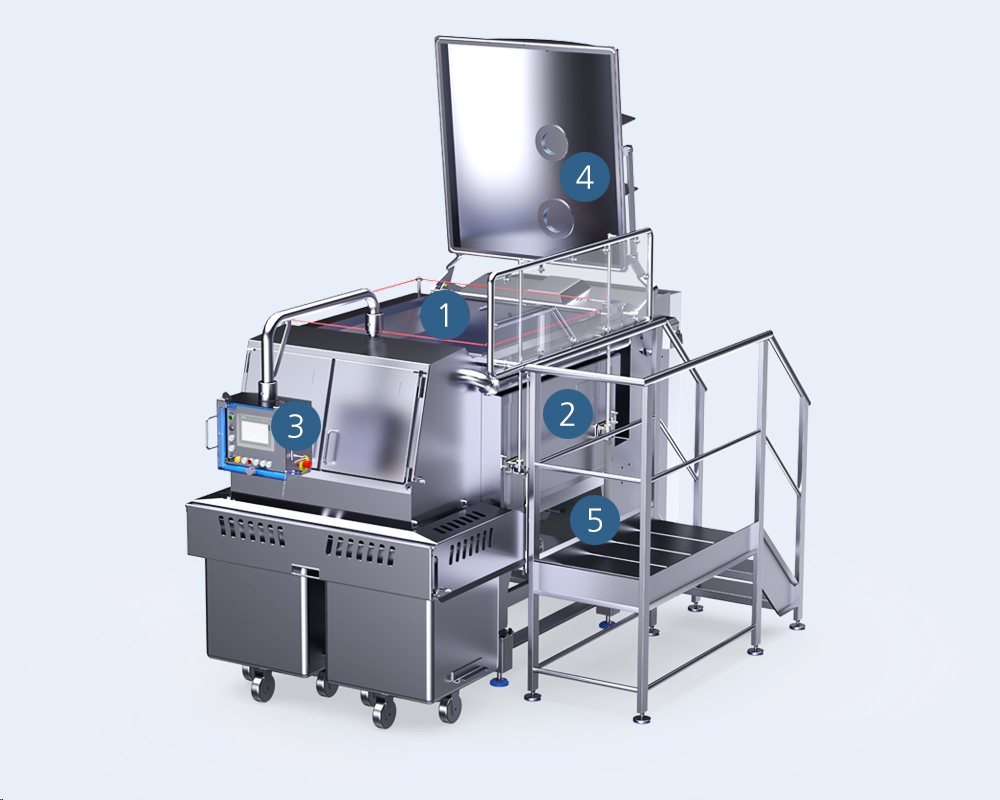 Our HotCook
1: Enormous capacity with innovative technology
cooks up to 4000 l of product mass at the desired temperature with mixer paddles and temperature-resistant scrapers.
2: Special double-jacket design
ensures high surface temperatures along the mixer walls with optimal and rapid heat transfer, including insulated machine walls.
3: PLC control
controls the machine in a smart and user-friendly way through a touch panel with functions like recipe management, etc.
Optional
4: Vacuum cooling unit
fastest product cooling through precise suctioning of steam by a high-performance vacuum unit, working based on the principle of the enthalpy of water.
5: Direct steam injection
heating with direct steam injection, cooking temperatures are reached much faster, resulting in high-quality final products.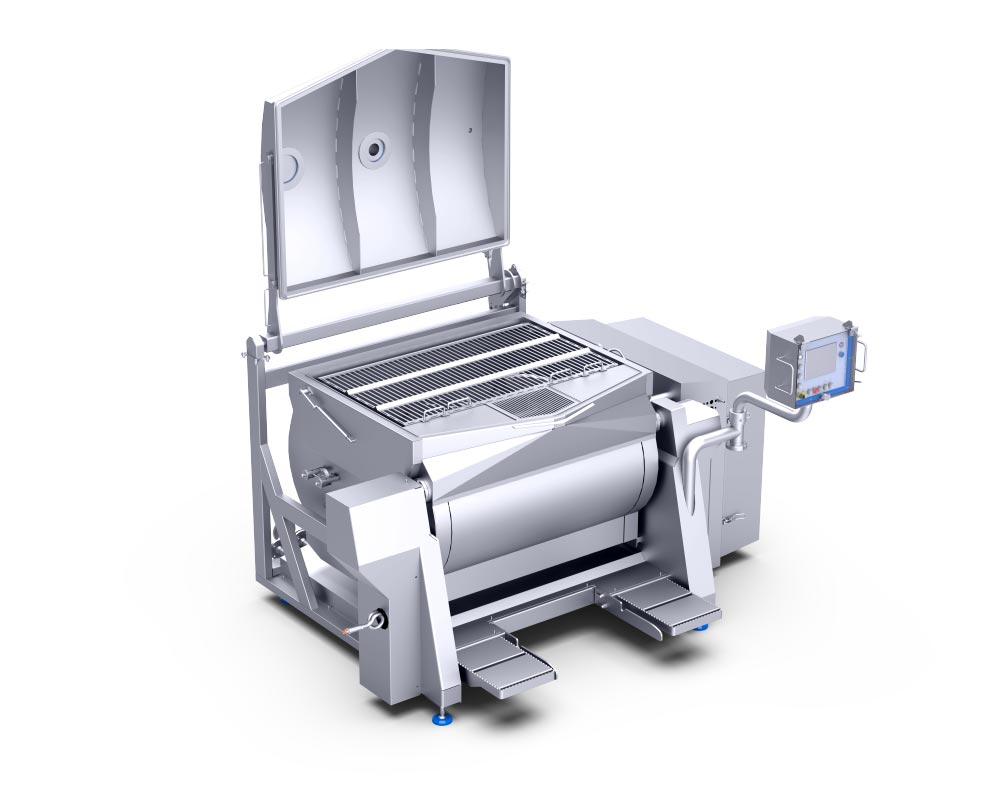 The HotCook Swing
Our swing version is particularly suitable for large-scale kitchens. 
Identical functionality

Swivelling unit with extruding sieve

Especially suited for frequent product changeovers
Accessories
We've developed suitable accessories for our HotCook that'll facilitate processing and provide additional functions for you. The food pump, for example, pumps and conveys products very gently, even at high capacities.
Ask your contact about all machine options and get equipment that's perfectly tailored to your needs.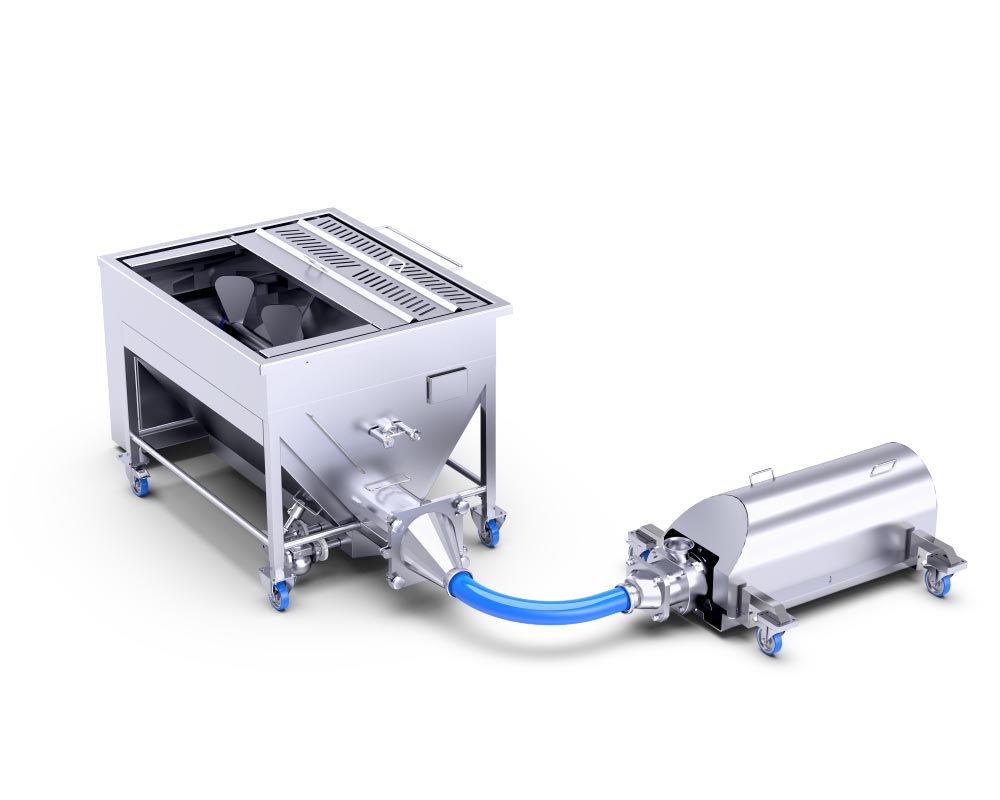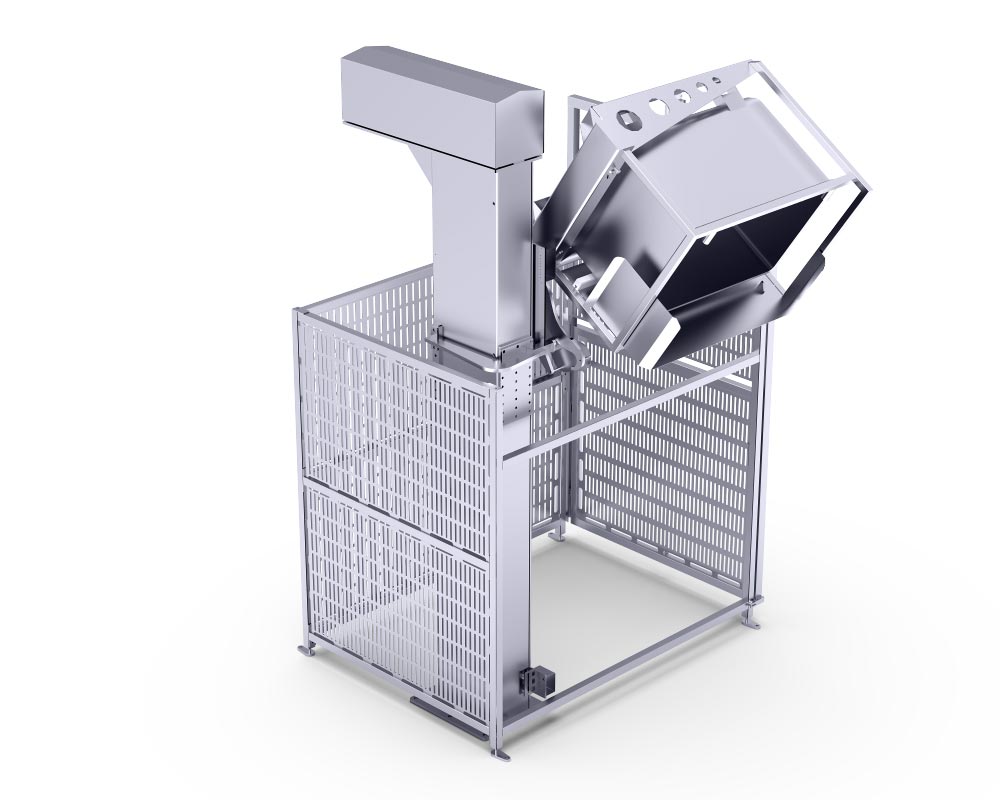 Even in front of and behind our HotCook, you can count on our reliable technology. Our conveyor technology ensures optimal line integration and convenient filling. From different conveyor belts for all requirements to spiral conveyors or the illustrated lifting and tilting device to special solutions made just for you, we've got the right accessories for your food processing machines.
Got any questions? 

We'd be happy to personally advise you!
You can get more information on the HotCook and our food processing equipment right from our team. We'd be happy to help you out in making plans, a purchase decision, and maintenance arrangements for your machine.