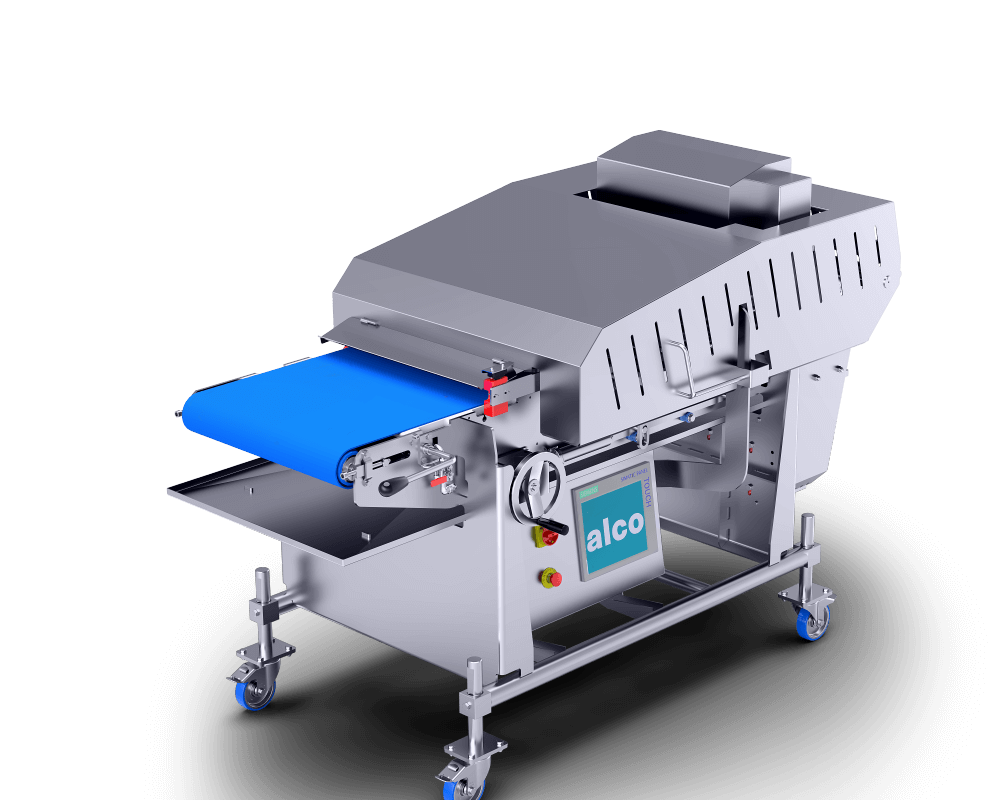 The Flattening Machine ASP

: Thickness matters
Our flattening machine will give your meat ideal, homogeneous product thickness. This in turn will shorten the cooking process. As a manufacturer of machines for the food industry, we know what's important for schnitzel, poultry kebap, roulades, and poultry breast.
Function
A perfectly flattened schnitzel is characterized by an enlarged surface and standardized, homogeneous product thickness. Our flattening machine guarantees just that! Fresh and frozen products also keep their succulence in the subsequent cooking process thanks to our flattener. Schnitzel, gyros, etc. are run over an upper and lower belt through the flattening area, where a number of roller pairs press and stretch the meat in turns. The desired product thickness can be defined in advance by hand through a height adjustment.
Features
Our flattening machine flattens and rolls fresh and frozen meat. Its special feature is that it guarantees the individually set product thickness in narrow tolerances for all suitable products with low memory effect. 
Perfectly suitable for:
roulades, kebab, gyros, schnitzel, chicken breast filets
Details
Continuously adjustable production speed

Flattening area with a number of roller pairs for gentle and permanent flattening

Height adjustment through a handwheel for setting the desired product thickness

Perfect product transfer through a pivotable outlet belt

Rubberized drive rollers for preventing strap slips

Water spray bar for preventing albumin adhesion

Strap clamping device with rapid-clamping system for easier cleaning

Collection tray for product residues

High operating safety

Straps with different profiles that can be detached without any tools

Can be driven on four heavy-load steering rollers and rotated 360°, with parking brake and height adjustment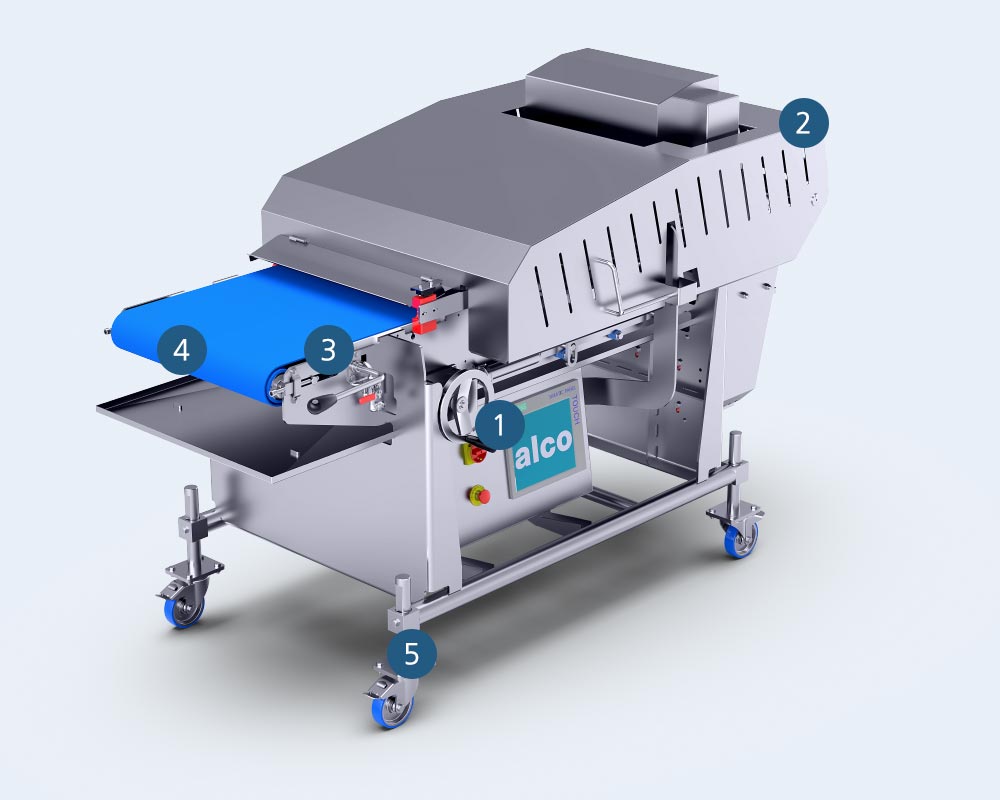 Our flattening machine
1: Belt adjustment
subtly adjusts the product thickness after flattening; through adjustment of the height of the upper belt by means of a handwheel and without the use of tools.
2: Outlet hold-down belt
optimally transfers the product to the subsequent equipment.
Optional
3: Special straps
optimally adjust to the product through various straps.
4: Extended inlet area
Additional conveyor line for putting products down.
5: Spindle height adjustment
sets the height of the entire machine by means of a handwheel.
Conveyor technology
Even in front of and behind our flattening machine, you can count on our reliable technology. Our conveyor technology ensures optimal line integration and convenient filling. From different conveyor belts for all requirements to spiral conveyors and lifting and tilting devices to special solutions made just for you, we've got the right accessories for your food processing machines.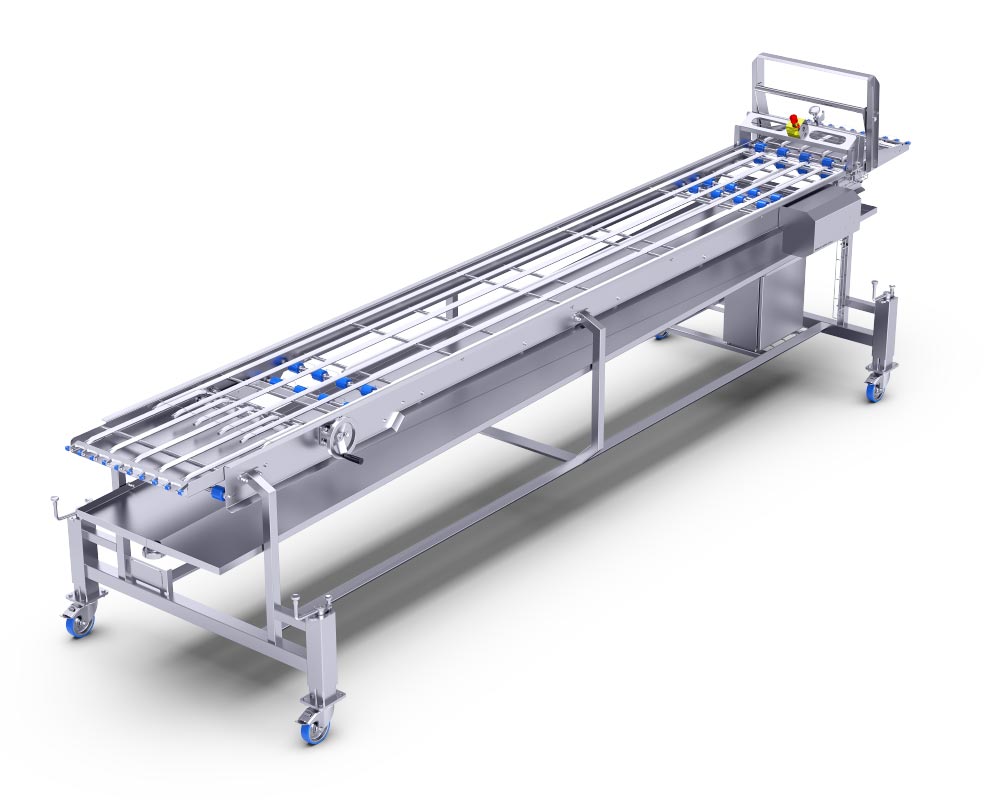 Got any questions? 

We'd be happy to personally advise you!
You can get more information on the flattening machine and our food processing equipment right from our team. We'd be happy to help you out in making plans, a purchase decision, and maintenance arrangements for your machine.