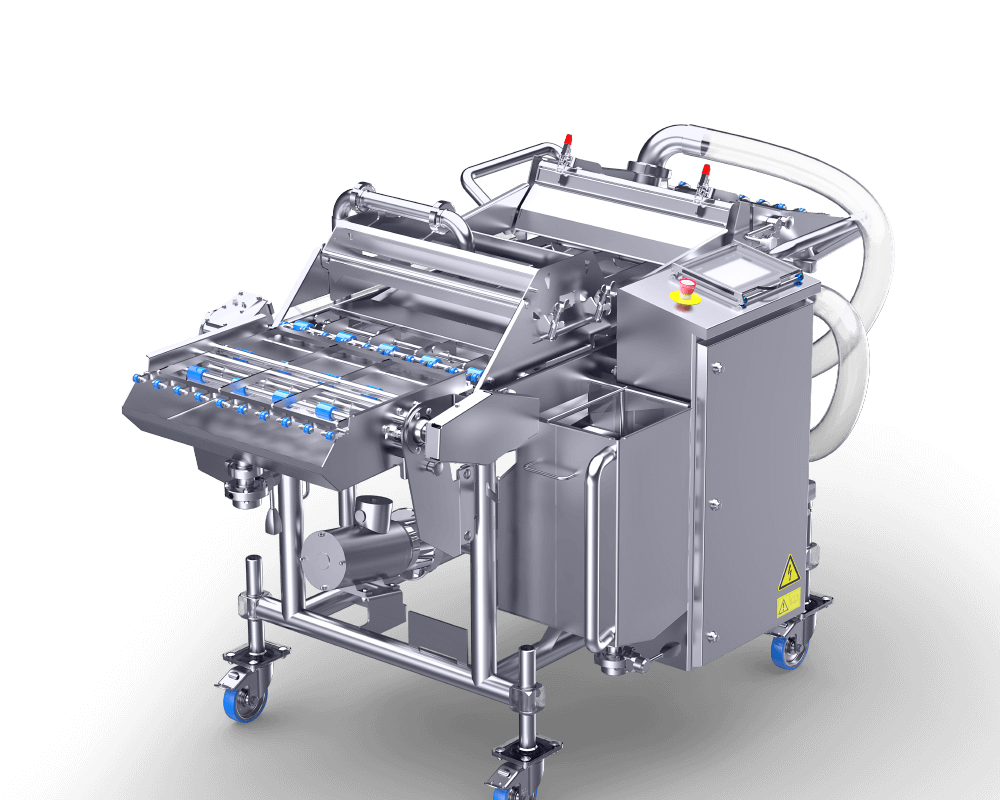 The Battering Machine APN

: Battering all around
Do you eat your schnitzel plain or prefer it breaded? With our battering machine, you'll apply different liquid coating materials to the food to be processed and get, for example, crispy schnitzel and succulent mozzarella sticks that way.
Function
So many possible uses: With our battering machine, liquid materials of various viscosity can be applied to your products. The top-performance pump system coats schnitzel, fish sticks, etc. completely and evenly on all sides with batter or marinades. Excess coating on the top or bottom of the product can easily be removed through an adjustable blower system and integrated material return system. That way, our battering machine also saves resources. 
Features
Our battering machine applies liquid materials like liquid batters to various products. The adjustable pump system adjusts to the varying viscosity of the liquid batters and guarantees complete moistening on all sides.
Perfectly suitable for:
schnitzel, mozzarella sticks, fish sticks, cordon bleu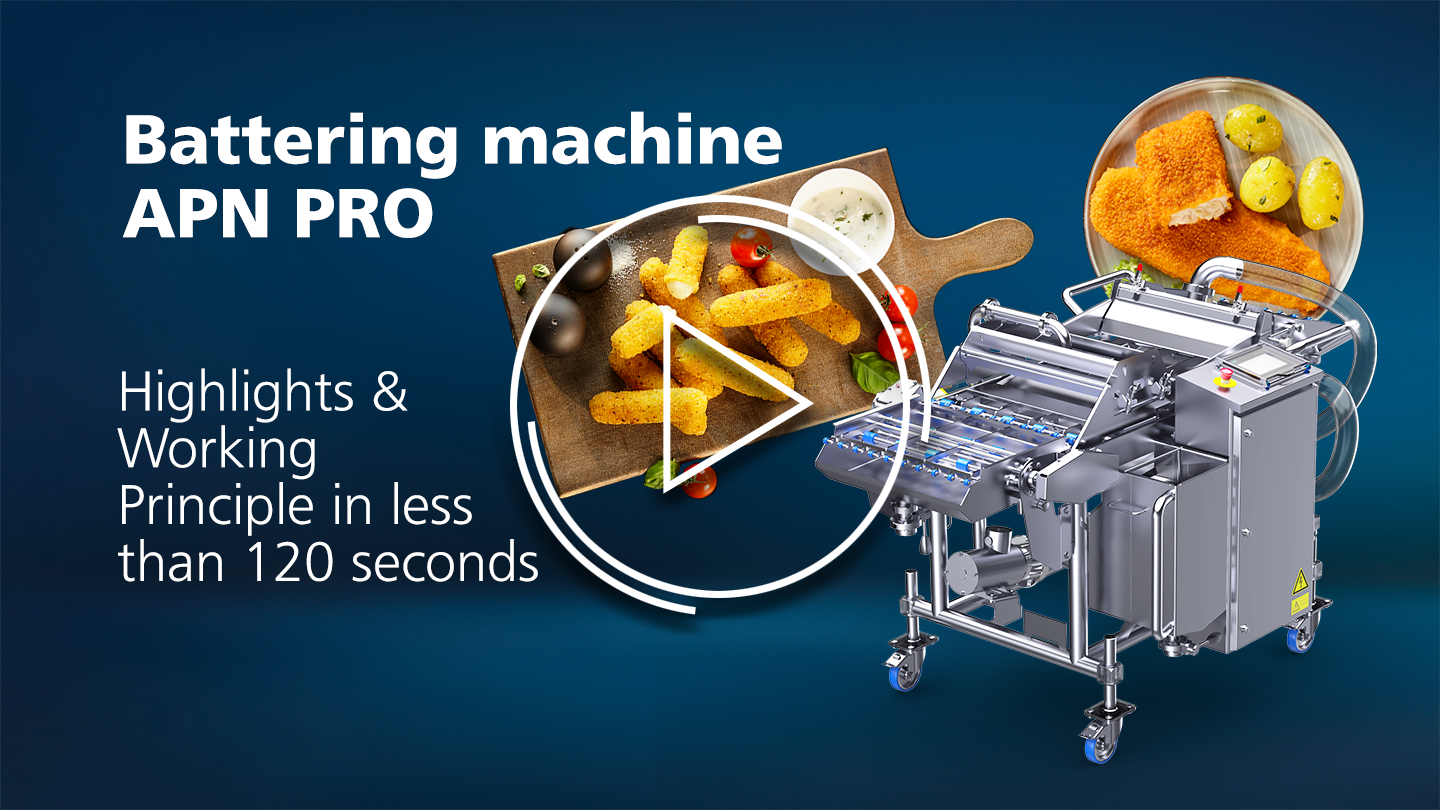 Details
Continuously adjustable production speed

Top-performance pump system with adjustable speed allows liquid coating materials of various viscosity to be used

Complete coating of the product with batter on all sides through overflow devices with batter curtain

Adjustable blower system for removing excess coating material from the top and bottom of products with an integrated material return system

Intuitive operation through a touch panel

Made entirely of stainless steel and food-approved plastic

Optionally with double-wall design for injecting a coolant

High operating safety

Easy-to-clean design

Can be driven on four heavy-load steering rollers and rotated 360°, with parking brake and height adjustment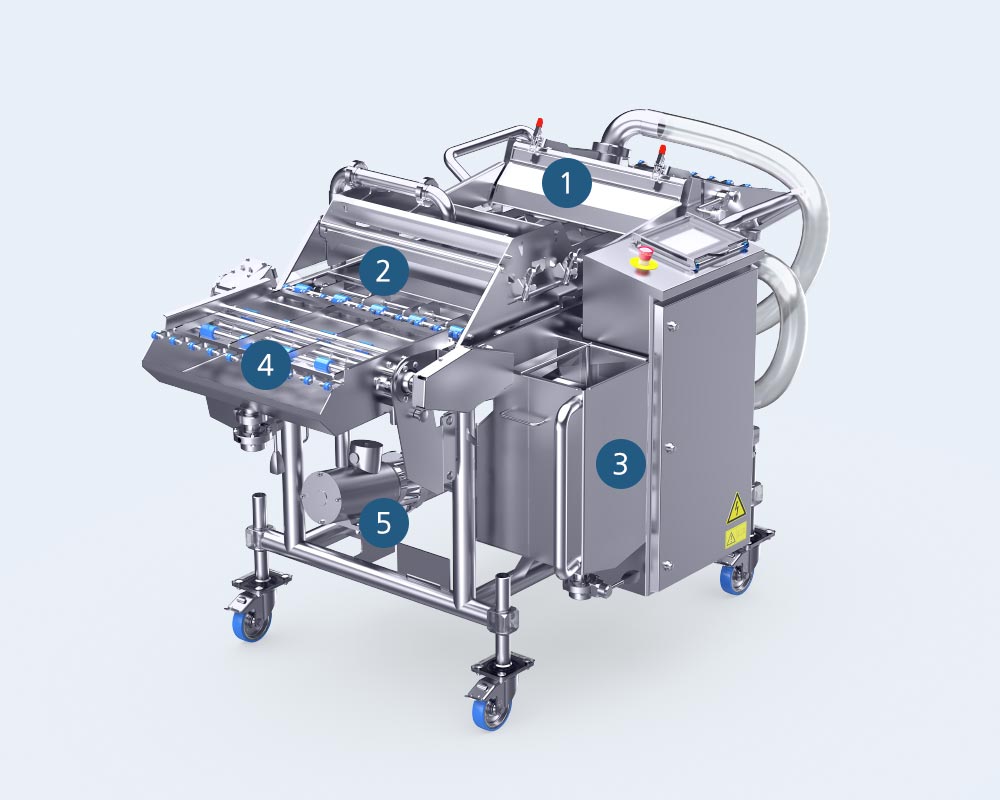 Our battering machine
1: Air knife
removes excess materials from the top and bottom of products through an adjustable blower system with additionally integrated material return system.
2: Batter curtain
optimally coats your product on top and bottom.
Optional
3: Cooling jacket
makes it possible to cool the coating material by injecting a coolant into the double-jacket container.
4: High-speed product belt
allows for belt speeds of up to 29 m/min through a top-performance stainless steel drive.
5: Rotary lobe pump
reliably conveys less flowable coating materials.
Accessories
We've developed suitable accessories for our battering machine that facilitate processing and provide additional functions for you. The batter mixer, for example, takes on the task of mixing the batter material and automatically fills the equipment with it. An additional liquid batter filter continuously filters coarser particles from the liquid batter, constantly keeping the viscosity of the battering material at the desired level.
Ask your contact about all machine options and get equipment that's perfectly tailored to your needs.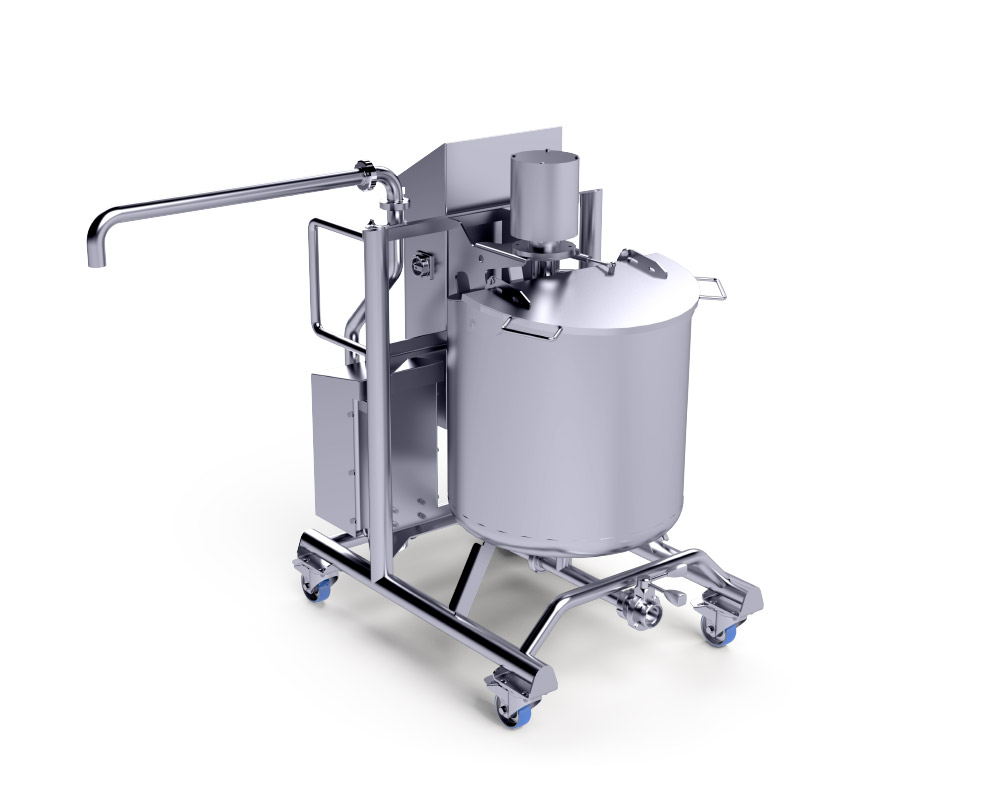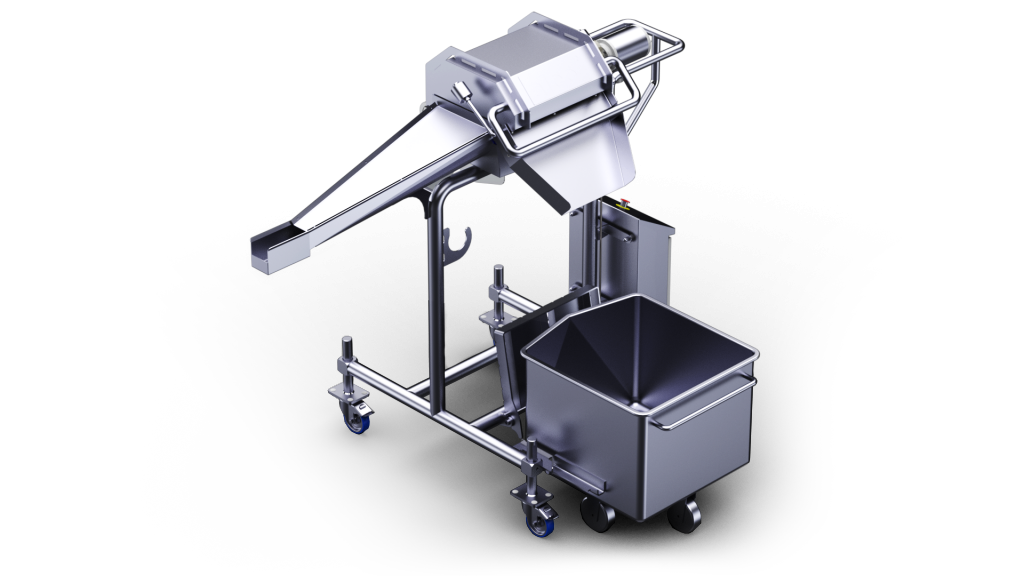 Even in front of and behind our battering machine, you can count on our reliable technology. Our conveyor technology ensures optimal line integration and convenient filling. From different conveyor belts for all requirements to spiral conveyors and lifting and tilting devices to special solutions made just for you, we've got the right accessories for your food processing machines.
Got any questions? 

We'd be happy to personally advise you!
You can get more information on the battering machine and our food processing machines right from our team. We'd be happy to help you out in making plans, a purchase decision, and maintenance arrangements for your machine.