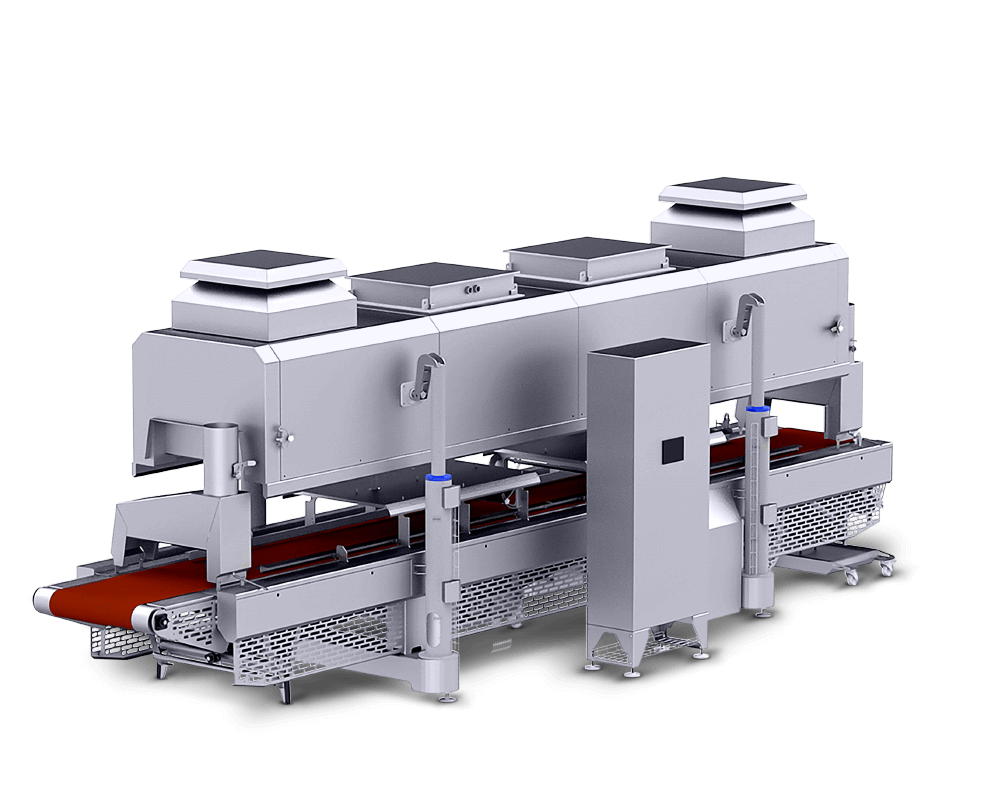 The Dual Cooker ADC: Searing and cooking in one
Our innovative dual cooker is the first to combine searing over intense contact heat and cooking with hot convection air and/or steam in just one piece of industrial plant. That way, even sensitive food is seared perfectly and gets inimitably good flavor and a traditional look with processing.
Function
The dual cooker combines two technologies. For the first time, the process of searing over intense contact heat is combined with the technology of cooking over hot convection air and/or steam. That way, sensitive food like roasted vegetables, pancakes, or poultry schnitzel can be seared in an ideal manner without losing their natural character in terms of flavor and look. Through contact searing, products get an appetizing look, hardly lose any weight and, upon request, get grill stripes.
Features
Our dual cooker seares and cooks products at the same time. What's special about the Dual Cooker is that it combines maximum efficiency with optimal flavor and an appetizing look.
Details
Continuously adjustable production speed

Combination of two processing methods in one machine

Combines contact searing over a TeflonTM belt with cooking over hot air

Prevents belt marks on the product and keeps products from sticking to the belt

Optimal belt tension and track stability thanks to automatic control

Hygienic design with an automatic band wash system

Heating through electrical or thermal oil-heated modules

Intuitive operation through a touch panel with recipe management

Made entirely of stainless steel and food-approved plastic

High operating safety
Perfectly suitable for:
burgers, pancakes, poultry schnitzel, roasted vegetables, zucchini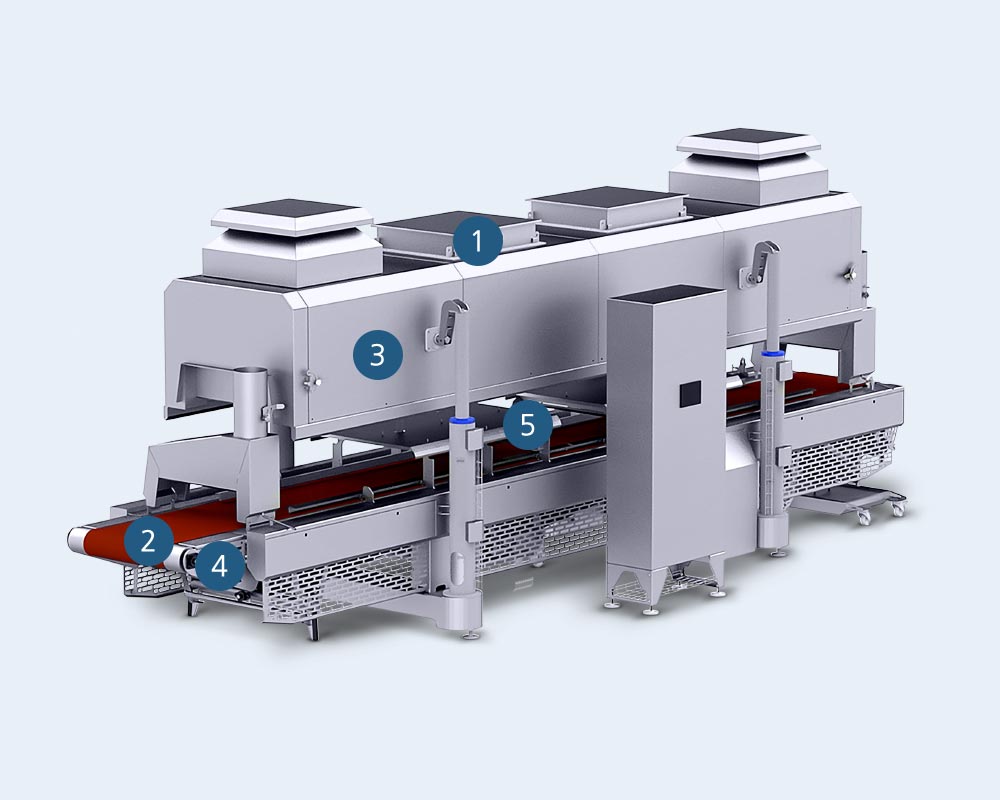 Our dual cooker
1: Top-performance cooker
combines contact searing and hot-air cooking with high-power heating elements.
2: Glass-fiber-enhanced PTFE run belt
transfers heat in an optimal way, prevents belt marks on the product, and keeps products from sticking to the belt system.
3: Two separate heating areas
allows for individually adjustable temperatures and air speeds.
4: Automatic belt wash system
continuously cleans the conveyor belt by means of hot water spray lances or steam nozzles.
Optional
5: Direct steam injection
regulates the desired humidity, ensuring a product weight loss that's as minimal as possible.
Conveyor technology
Even in front of and behind our dual cooker, you can count on our reliable technology. Our conveyor technology ensures optimal line integration and convenient filling. From different conveyor belts for all requirements to spiral conveyors and lifting and tilting devices to special solutions made just for you, we've got the right accessories for your food processing machines.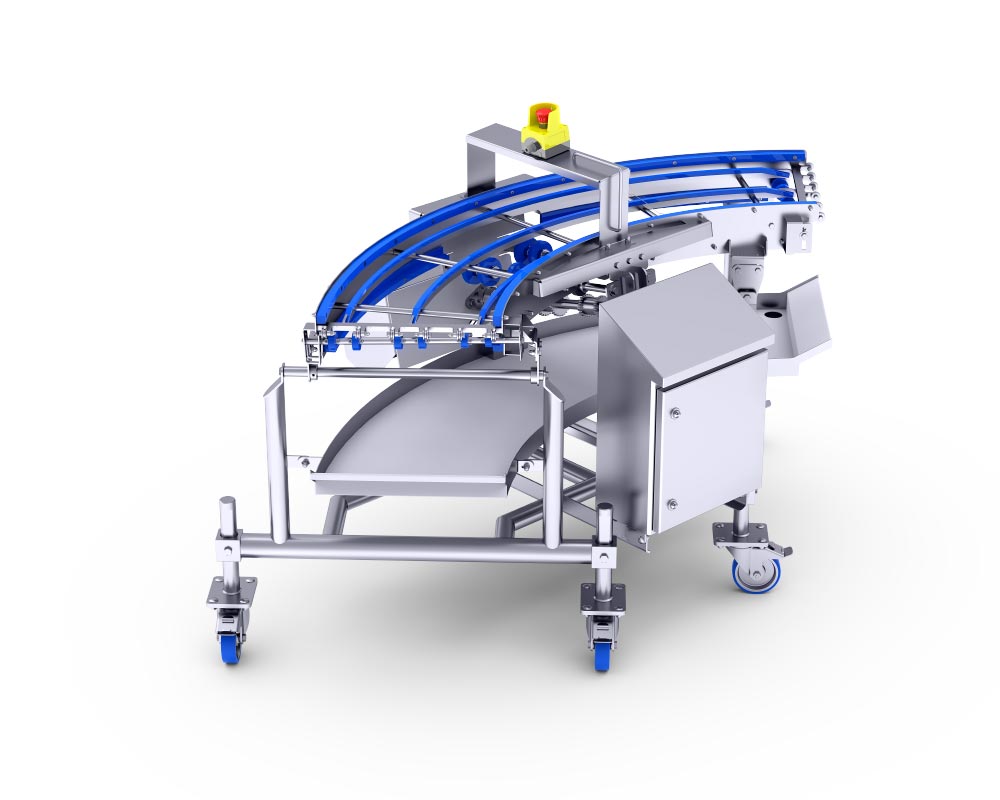 Got any questions? We'd be happy to personally advise you!
 
You can get more information on the dual cooker and our food processing machines right from our team. We'd be happy to help you out in making plans, a purchase decision, and maintenance arrangements for your machine.