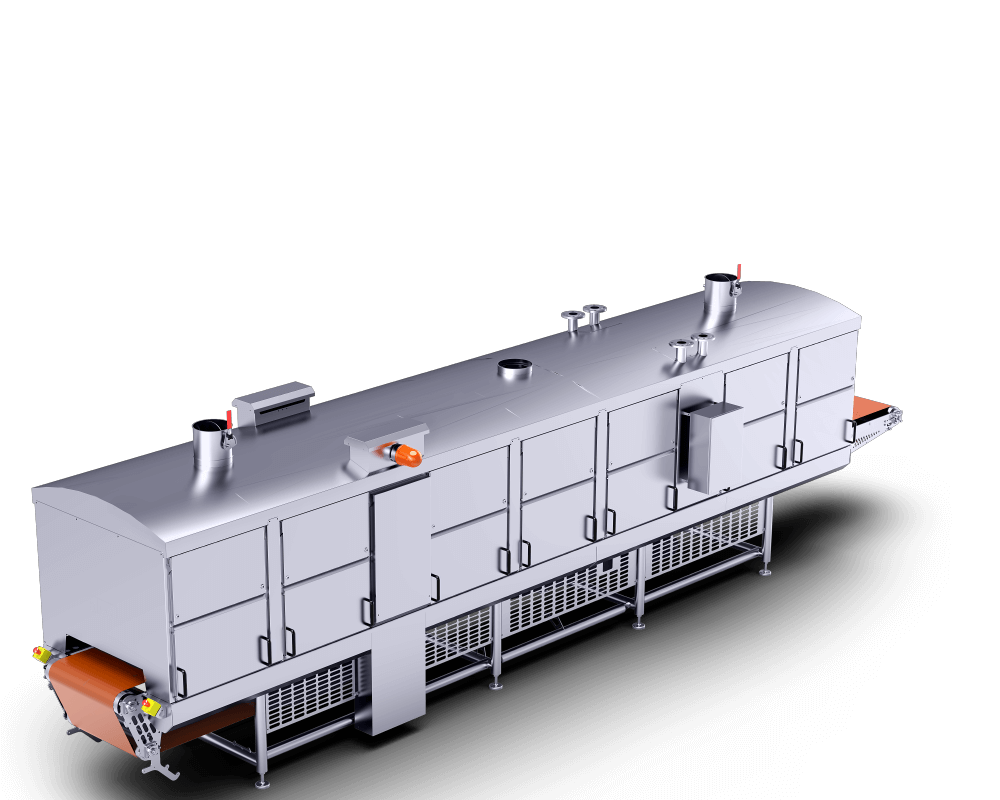 The Contact Cooker AGT

: Fat-free and big on flavor
Fried food doesn't have always to be fatty, which the contact cooker from alco demonstrates. Without any additional fat, it ensures a real searing experience with individual grill stripes and a lot of flavor. 
Function
Our contact cooker will sear and cook your products solely in their own fat, allowing for a cooking process that's free of additional added fats and provides natural flavor, a product with high eating qualities and home-made appearance. An additional benefit is the minimal weight loss due to the efficient cooking method of contact heat and direct energy transfer into the product. Even heavily marinated or sticky glazed products can be perfectly processed, due to the non-stick abilities of the teflon belt.
The look of the product, too, makes for a real eye-catcher in the modern kitchen by means of the contact cooker: Chicken breast filets, patties, or potato pancakes can be given grill stripes or other authentic roast marks, evenly and on both sides. 
Features
The alco contact cooker sears products exclusively in their own fat. That way, it gets the natural flavor of the products. If desired, products can be given patterns like grill stripes.
Perfectly suitable for:
Poultry filets, steaks, burger patties, skewers, seafood, pancakes, vegetables, bacon
Details
Continuously adaptable production speed

Suitability for various products including hard-sticking products like glazed and marinated poultry parts thanks to a glass-fiber-reinforced non-stick upper and lower belt

No belt marks on products

Continuously adaptable belt gap

Heating through electrical or thermal oil-heated plates

Process temperature infinitely variable up to max. 260 °C

Intuitive operation through a touch pad with recipe management

Linked with the remote maintenance service

Automatic, continuous belt wash system (without any added chemicals)

Made entirely of stainless steel and food-approved plastic

High operating safety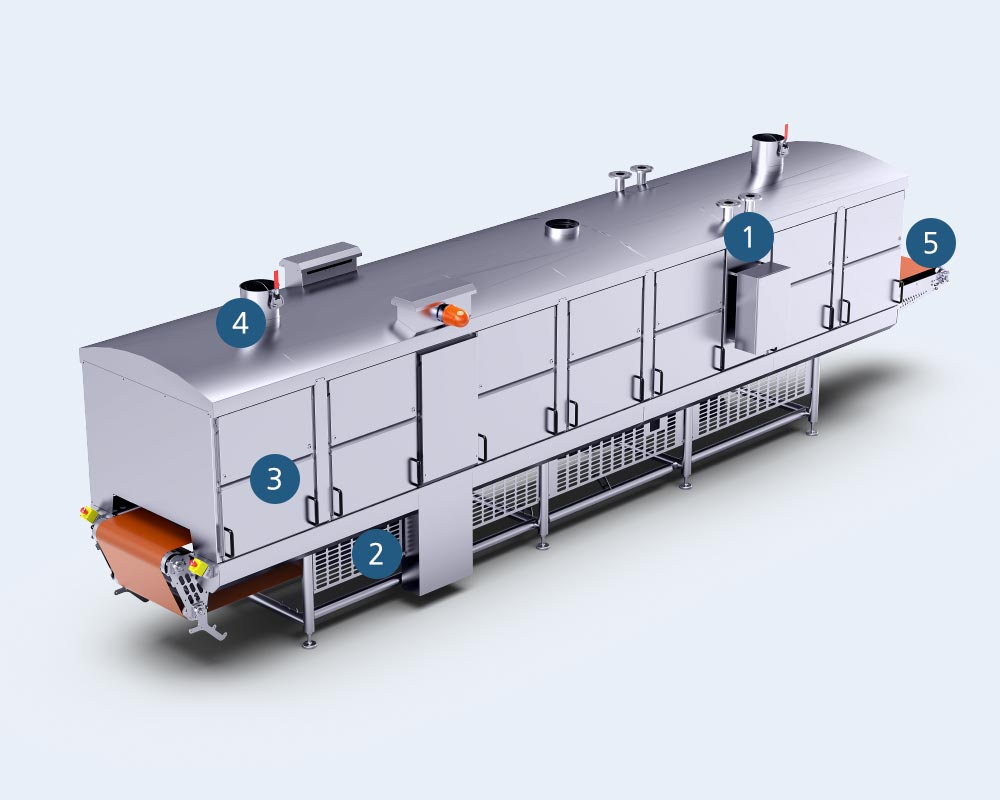 Our contact cooker
1: Top-performance heating elements
ensure efficient heat transfer. Choice between electrical and thermal oil-powered heating elements necessary.
2: Fat collection system
collects fat and other liquids leaking through lateral drain channels.
Optional
3: Grill stripe pattern application
gives products grill stripes over heating plates (are delivered without a pattern according to standard).
4: Exhaust chimney system
directs the exhaust through stainless steel chimney pipes from the suction sockets of the contact  cooker out of the production room.
5: Separate outlet belt
improves product transfer to the subsequent equipment through an approx. 500 mm long belt with its own drive.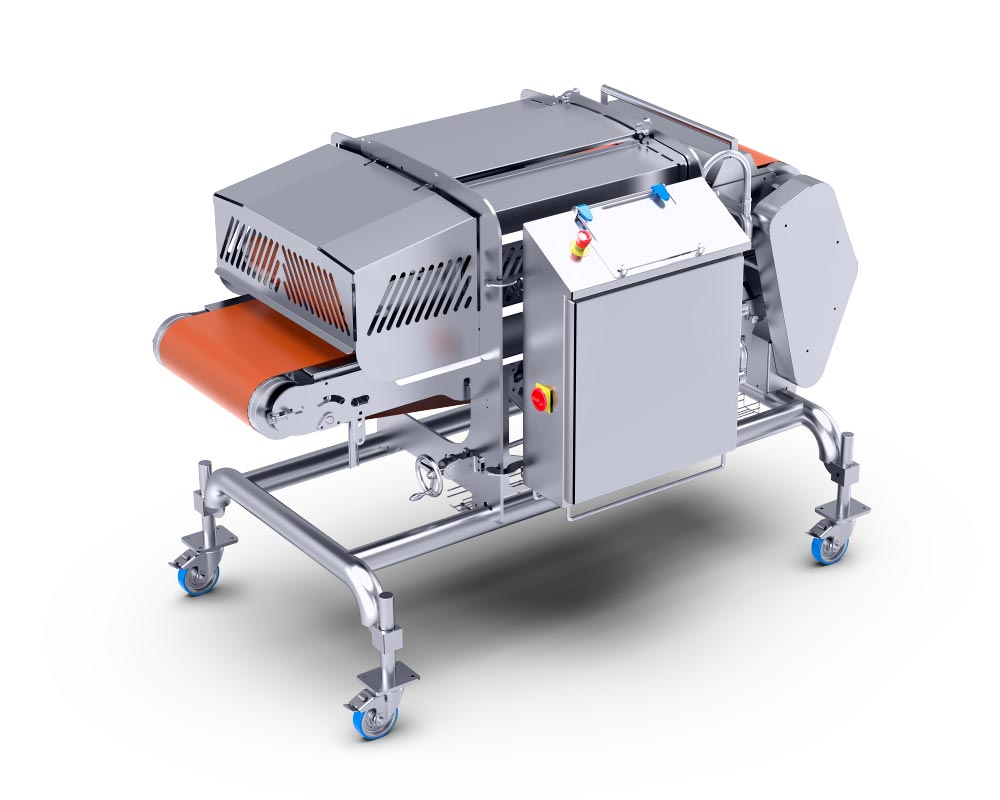 The ECO contact cooker
Our ECO version is particularly suitable for smaller businesses with products no higher than 50 mm. 
Identical functionality

Space-saving, compact design

Available in four sizes according to standard

With electrical heating elements, maximum six heating plates

Cost-saving version
Conveyor technology
Even in front of and behind our contact cooker, you can count on our reliable technology. Our conveyor technology ensures optimal line integration and convenient filling. From different conveyor belts for all requirements to spiral conveyors and lifting and tilting devices to special solutions made just for you, we've got the right accessories for your food processing machines.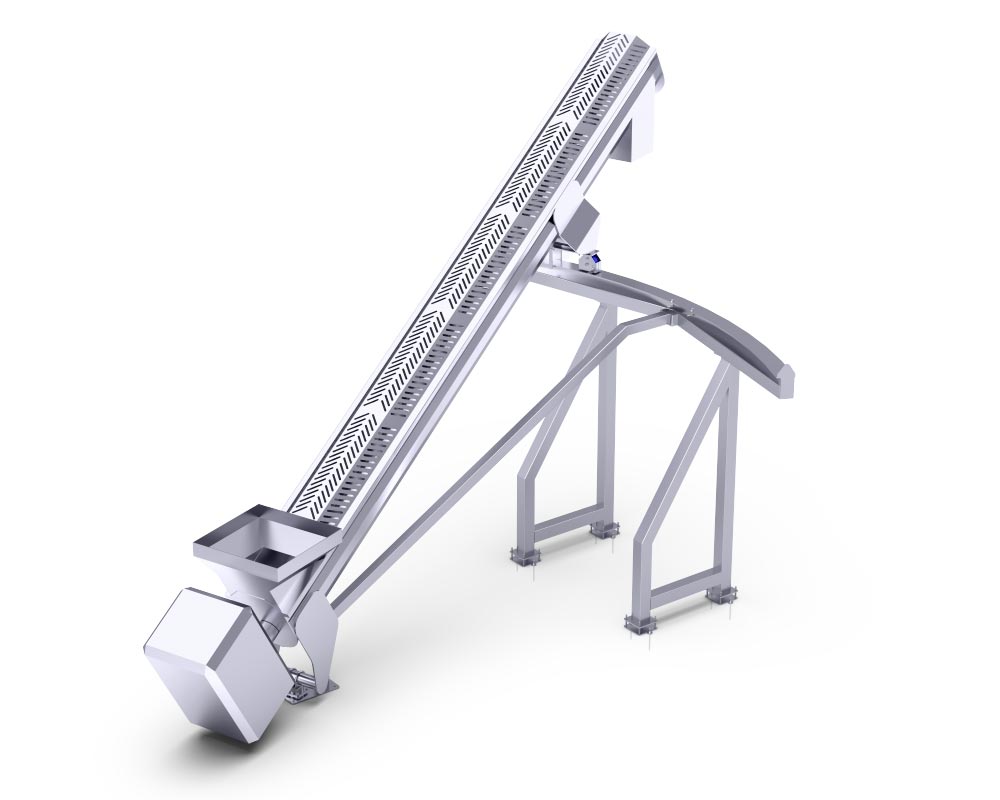 Got any questions? We'd be happy to personally advise you!
You can get more information on the contact cooker and our food processing machines right from our team. We'd be happy to help you out in making plans, a purchase decision, and maintenance arrangements for your machine.